DebConf10/TravelInfo
From Wiki
This page contains travel information which details how to get from wherever you are arriving from to the Debconf venue. Be sure to have also read DebConf10/Welcome for important information on day to day stuff. Be sure to get your proper directions and maps and print them out before you arrive.
[edit]
What to Bring
Wondering what to bring? Please be sure to read the Welcome page for important information like this.
[edit]
Directions to the venue (and cost)
[edit]
Address of the venue
DebConf10 will take place in Columbia University's Morningside Heights campus in New York City, NY, USA. The full address is:
The Fu Foundation School of Engineering & Applied Science Columbia University 510 S.W. Mudd Building 500 West 120th Street New York, NY 10027 USA
However, this address is not sufficient to let you know what to do upon arrival, you must enter from the Columbia campus, not the street. You must see the maps below to know where to go upon arrival.
We will be using this venue for DebCamp, the DebianDay and DebConf itself. The Accommodation is on campus, in Columbia University student housing.
[edit]
Where are you coming from?
Please follow the links below for details on where you are coming from:
[edit] Pennsylvania Station (train station for Amtrak, Long Island Railroad (LIRR) and New Jersey (NJ) Transit)
[edit] Getting Around NYC (directions and transportation w/in NYC )
[edit]
Contact phone numbers
Attendee emergency contact is 888-882-2026 (freephone/toll-free number, so you can call it from a pay phone for free). It will be answered 24/7. You can call it as sip:1000@voip.debian.net if you have questions before leaving home, but please call during the New York daytime (1400-0200 UTC) if it is non-urgent.
[edit]
Various maps / photos
[edit]
What to do when you arrive
You will need to check into the dorms separately from DebConf.
We recommend that you check in to the dorms first, as it is closer to the subway. The check-in desk at the dorms is open until 21:00. However, you can check in 24/7, just ask the guard in the lobby to contact the on-call check in staff.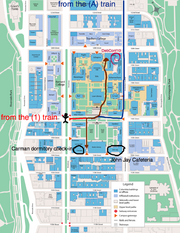 Check-in time is 15:00 (and check out is 11:00). If you arrive before this, they can store your luggage, and it is up to you whether you go to the dorms first to store your stuff or you first go to Mudd hall. If you arrive after 1500, we recommend you check into the dorms first as it will save you some time and effort.
The dorm check-in is at Carman Hall (regardless of which building you are staying in). You should enter the campus at 116th and Broadway and go to 114th and Broadway (40.806455, -73.963837). A map of the DebConf10 buildings is on the right side of the page.
After you check in to the dorms, you should go to Mudd Hall to check in at the DebConf front desk. Mudd is at the northeast corner of the campus. See Mudd Hall (40.809351,-73.960299)
The hours of the Mudd front desk and hacklabs are 0900 until 0100 during DebCamp and 0300 during DebConf (but check back before you leave for updated hours). The residence hall check-in desk will have information posted about the DebConf hacklabs-front desk.
[edit]
Wheelchair accessibility
Each of the directions above have information about wheelchair accessibility options, if you would like assistance to the venue, please contact us to arrange meeting at the airport. For additional information on wheelchair accessibility, or for more general information about accessibility at Columbia itself: (212) 854-2388.
There is a Columbia University Accessibilty map. To get from lower campus to upper campus, use the intercom on the plaza elevator to call guard.
[edit]
Parking
Street parking and local parking garages may be available, it will cost money. The Central Parking System garage is on West 114th Street between Broadway and Amsterdam Avenue; Riverside Church Parking Garage is on West 120th Street between Claremont Avenue and Riverside Drive: CGMC Parking is at 512-520 West 112th Street between Broadway and Amsterdam Avenue.
[edit]
Coordinating travel with others
If you wish to try and coordinate travel with others there are some people taking interesting routes who would be interested in coordinating with you, or you might be doing the same!
[edit]
Weather and climate
Month at weather.com
10 days forecast also at weather.com