DebConf10/GettingAroundNYC
From Wiki
Cool! That's a clever way of looknig at it!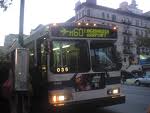 bus system map: Map PDF Map notes PDF
[edit]
Car Service/Taxi
In NYC yellow taxis can be hailed from the sidewalk. Taxis that are available will have their roof light lit. All yellow cabs in NYC accept credit cards, and are required by law to take disabled passengers. For more info and rates see http://www.ny.com/transportation/taxis/.
Taxis are common in the columbia neighborhood at all times of the day, however if you prefer to call a car service, these are two local dispatchers:
When returning to the Columbia Campus, ask the driver to drop you off at 116th and Broadway, which are the main gates to Columbia University.