DebConf17/Artwork
From Wiki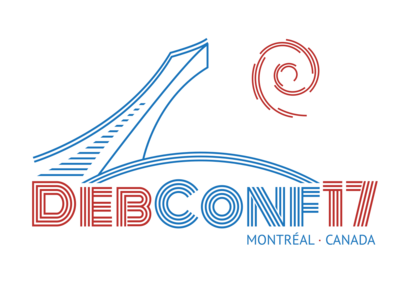 Logo by Renata Taffarel and Valessio Brito released under the GPLv3 or compatible. Download SVG Version
Colors HEX:
Blue - #1b75bc
Red - #bc312e
Orange - #faa61a

Fonts:
PT Sans - https://fonts.google.com/specimen/PT+Sans?selection.family=PT+Sans
Monoton - https://fonts.google.com/specimen/Monoton?selection.family=Monoton

Logo proposals and Original ideas which appeared on this page have been moved to LogoProposals and LogoIdeas.
[edit]
Direction signs
TBD
[edit]
Certificate
TBD
[edit]
Info guide
TBD
[edit]
Souvenir
TBD (maybe, water bottle? pollito 3d? :)
[edit]
Video loop
TBD
[edit]
Presentation templates
TBD (libreoffice, latex, ?)
[edit]
Button pins (using a temporary logo for promotion during DC16)
Button pins printed for the promotion of DC17 at DebConf16. Unfortunately the swirl came out in solid color instead.
[edit]
Stickers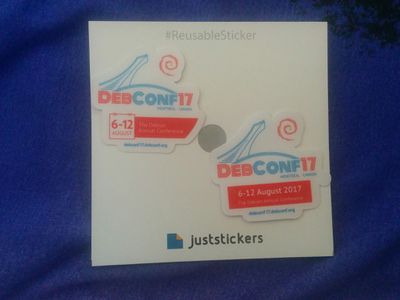 [edit]
Lanyards
TBD (maybe)
[edit]
Banners
TBD
[edit]
Food tickets
TBD
[edit]
T-Shirt
See: T-shirt_colors
| | Colors |
| --- | --- |
| Attendees | |
| Video | |
| Staff | |
[edit]
Unofficial self-organized t-shirt printing
[edit]
Positive Spaces Swirl
| | Colors |
| --- | --- |
| Front | |
| Back | |
Tiago and Valessio are willing to organize this screen printing if we get enough people interested. By enough we mean at least 40 people, in order to expect costs from 20 to 30 CAD per t-shirt. We intend to use a nice triblend one, but if needed we can get lower the prices by using regular cotton.
T-shirts are gender non-binary cut. Payments will take place on site during the conference, cash only.
Join us in this sweet adventure by adding your data in the table bellow. We need to confirm the order before DebCamp, so hurry up!
| contact | amount | size |
| --- | --- | --- |
| tiago@d.o | 2 | L |
| valessio | 1 | L |
| tassia@d.o | 2 | S |
| Nattie | 1 | XL |
| Taowa | 1 | L |
| urbec | 1 | >= equivalent of american male 3X ;) |
| Jeffity | 1 | S |
| Vagrant | 2 | L and XL?? |
| h01ger | 1 | L |