DebConf17/Artwork
From Wiki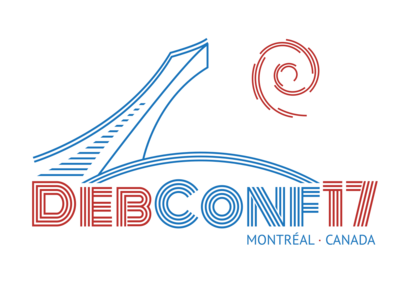 Logo by Renata Taffarel and Valessio Brito released under the GPLv3 or compatible. Download SVG Version
Colors HEX:
Blue - #1b75bc
Red - #bc312e
Orange - #faa61a

Fonts:
PT Sans - https://fonts.google.com/specimen/PT+Sans?selection.family=PT+Sans
Monoton - https://fonts.google.com/specimen/Monoton?selection.family=Monoton

Logo proposals and Original ideas which appeared on this page have been moved to LogoProposals and LogoIdeas.
[edit]
Direction signs
TBD
[edit]
Certificate
TBD
[edit]
Info guide
TBD
[edit]
Souvenir
TBD (maybe, water bottle? pollito 3d? :)
[edit]
Video loop
TBD
[edit]
Presentation templates
TBD (libreoffice, latex, ?)
[edit]
Button pins (using a temporary logo for promotion during DC16)
Button pins printed for the promotion of DC17 at DebConf16. Unfortunately the swirl came out in solid color instead.
[edit]
Stickers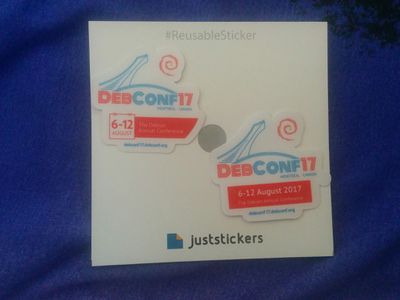 [edit]
Lanyards
TBD (maybe)
[edit]
Banners
TBD
[edit]
Food tickets
TBD
[edit]
T-Shirt
See: T-shirt_colors
| | Colors |
| --- | --- |
| Attendees | |
| Video | |
| Staff | |