DebConf13/Travel
From Wiki
Please see the Travel page on the DebConf13 website for initial information. Please coordinate with the DebConf Team to move /validated/ information to the website when relevant.
If you want to start arranging your travel to attend DebConf, some initial travel suggestions may be useful:
We recommend that people from nearby countries take advantage of the excellent train connections to Switzerland, rather than looking for flights: the Swiss Federal Railways website, provides a very helpful international travel planner which knows about trains, but also about the local bus connections you will need to reach the DebConf venue. The best railway station to aim for is Yverdon-les-Bains (pronunciation). To get to the venue from there, take a local bus to the bus stop called "Concise, Camp de Vaumarcus" (pronunciation), which is very close to the venue. You can also directly use that name as your final destination in the above travel planner. Nearby airports include Geneva/GVA (1h30 from the venue by train), Zurich/ZRH (3h from the venue by train), Basel-Mulhouse/BSL (3h from the venue by train) and Milan Malpensa.
The DebConf13 map shows the venue and the bus line (with some stops).
[edit]
Important: Swiss customs apply to all travelers, including EU citizens
All travelers, regardless of citizenship, have the right to cross a border from an adjacent country and remain in Switzerland under the Schengen agreement.
However, this does not give any exemption to the customs requirements
In general, a traveler can carry goods up to the value of 300 CHF per day, with tight controls on things like alcohol (1L per person per day).
Swiss customs search cars at the border and they also board the trains. Sometimes they will simply do a quick search for people carrying obvious items like large electrical items in new boxes. In other cases they go from person to person searching every bag.
The DebConf team can not give any legal advice or guarantees about border protocols, and Switzerland changes these rules from time to time. Current advice can be found from the official web site.
[edit]
Public transportation (train)
Vaumarcus is served by a bus line, which locally replaces the railway. But tickets can be bought directly to the bus stop from every train station in Switzerland. The timetable on the Swiss railway site includes bus services.
All Swiss rail tickets are available at full price and half price. Full prices are quite expensive. Most residents have either a half price membership card (costs CHF 150/year) or an unlimited travel card (costs 3200 CHF / year). Tourists can buy the half price tickets if they buy a Swiss travel pass that provides a combination of some days unlimited travel and other days at half price. The Swiss travel system website is the best place to inform yourself about the available ticket and discount options.
Try to book one ticket for the complete trip from Europe to Vaumarcus / Yverdon-les-Bains and look for special fares. This can save you a lot of money. Example: Vienna-Yverdon-les-Bains: EUR 39 one-way (Sparschiene Schweiz) or Stuttgart-Yverdon-les-Bains: EUR 59. A german Bahncard might also give you some discount.
Yverdon-les-Bains is well connected with Zurich, Geneva and Basel: one train per hour, and the buses depart few minutes after train arrives.
For more detailed information about traveling by train see here.
[edit]
From Yverdon-les-Bains
See also:public transport
The bus station platforms are located just in front of the rail station (map below). Take the bus 630 (direction: Gorgier-St-Aubin, gare). Buses depart at every hour and 10 minutes, from 5:10 until 23:10, with extra buses on rush-hours. Buy a ticket for 4 zones (40, 123, 124, 125) it costs CHF 7.00 one way (Zones). You can also buy the ticket online on sbb.ch. The station nearest to Le Camp is Concise, Camp de Vaumarcus (in the middle of fields). From there follow Debconf signs (direction: up).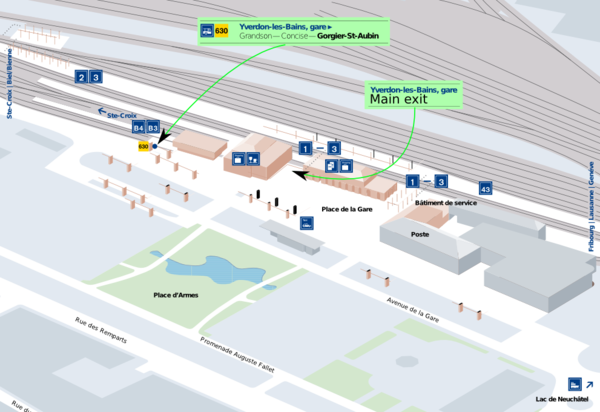 [edit]
By airplane
There are 3 international airports in Switzerland itself:
and the Milan airports are also very close to the Swiss border. Milan Bergamo airport is served by low-cost airline Ryanair. People planning to do sight-seeing in the high mountains (central Switzerland) are just as well served arriving in Italy as in a Swiss airport.
Both Zurich airport and Geneva airport have a rail station, with hourly direct trains to Yverdon-les-Bains. Basel airport instead has a shuttle bus from the Airport to the Basel SBB rail station.
Note: Geneva and Basel are literally international airports, they also have exits to France. We recommend to use the customs control and airport exits to Switzerland.
The Swiss railway site has information about the timetable and prices of train to Le Camp. The airport station are named "Zürich Flughafen", "Genève-Aéroport", "Basel, EuroAirport" (with the shuttle timetable) or "Basel SBB" the main Swiss station in Basel. For details about trains in Switzerland and the best ticket offers see above.
There are various bus services joining Malpensa airport (Milan) with the Swiss rail network. The station Domodossola is the place where Swiss railways meet Italian railways and busses, it is 1 hour from the airport and 3.5 hours by train to Vaumarcus.
Daniel has published a blog looking at the overall costs of flying into Geneva or Milan, train passes and hire cars and some tourist activities. Some of these things are beyond the scope of what the DebConf team can assist with, but are well worth considering for people coming a long way.
[edit]
By car/motocycle, hire car
Some key points to remember:
you must spend CHF 40 to buy a special sticker for your car to drive on Swiss freeways
Car hire at Swiss airports can be extremely expensive in the summer (up to 200 CHF/day for a small car), plan to book early or hire a car in a neighbouring country like Italy
There is a lot of car parking space at the venue, Le Camp
Switzerland is heaven for motorcyle lovers, there are plenty of videos online to help you plan an itinerary for touring the mountains