DebConf13/Welcome
From Wiki
This page is updated with the general information and rules for DebConf. It will be updated as things change, so check back here occassionally.
[edit]
Welcome to Debconf13!
It is important to know a few things before you come to Debconf; we try to make things smooth for you, but we also need your help.
The most important thing to remember is that we are guests in someone else's home. It is like we have asked our host to have 300 of our closest friends coming to a week long party. Surprisingly, they've agreed but are very concerned about things going well. The Debconf13 unofficial motto is 'fly under the radar', which means that we all need to be mindful of having a low-impact on our hosts. We need everyone to strive to leave Le Camp better than we found it. They are most concerned about keeping things tidy and not having trash, food and drinks left over around or piles of stuff.
Do not leave a mess anywhere or be anything but courteous guests, or Darwin will not just kill a lot of kittens but make them all go extinct at once. Clean up after yourself, or your neighbor will have to clean up for you.
[edit]
Contact
Front-Desk phone: +41 76 640 91 11
email: registration@debconf.org
IRC: #debconf-team@irc.debian.org
[edit]
How to get to Le Camp
The address of the venue is
   Route du Camp 7 
   2028 Vaumarcus
   Switzerland

[edit]
By public transport
The most straightforward way to reach the DebConf13 venue (Le Camp) is to aim for the Concise, Camp de Vaumarcus bus stop using the international travel planner for land transportation, either from any european railway station or your landing airport.
Most attendees will likely travel through the railway station of Yverdon-les-Bains (also called just Yverdon) and switch for the bus line 630. When exiting the station, turn right after the Coop store and look for the yellow busses marked 630, direction "Gorgier St-Aubin". The following map shows from where the bus leaves.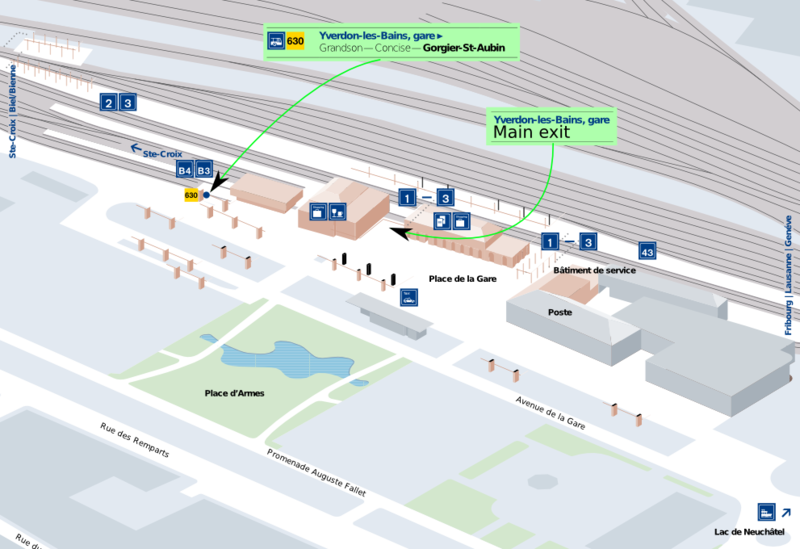 Buses depart at every hour and 10 minutes, from 5:10 until 23:10, with extra buses on rush-hours. Buy a ticket for 4 zones (40, 123, 124, 125) it costs CHF 7.00 one way (Zones). You can also buy the ticket online on sbb.ch. Check the bus route between Yverdon and Le Camp.
You will get off at the bus stop Concise, Camp de Vaumarcus, in the middle of the fields. Check below the signs you should follow. If you can carry your luggage uphill in a stone+grass pathway, take the shortcut. Otherwise the road is more appropriate (eg. for wheel suitcases).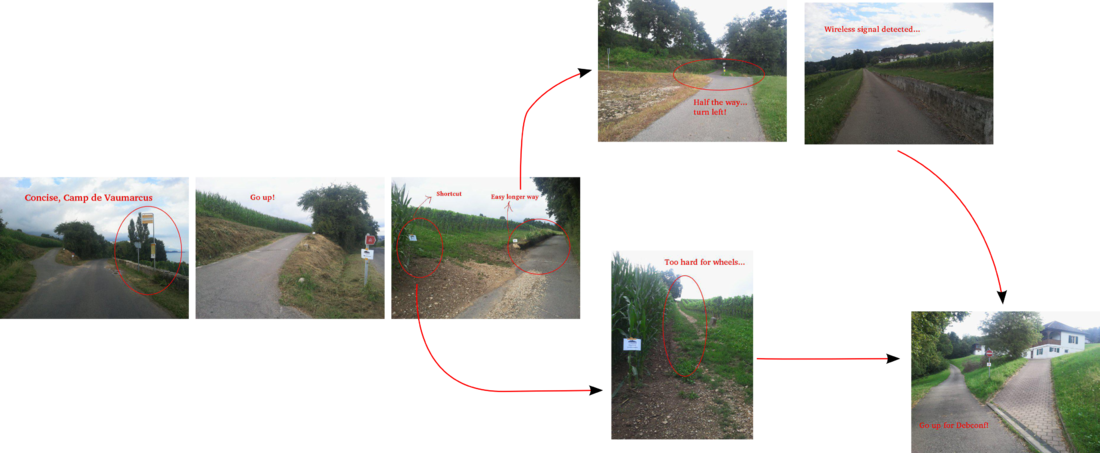 [edit]
By Car
Just 20 km from Yverdon-les-Bains and 22 km from Neuchâtel, the Camp is 5 minutes from the "Vaumarcus" (No. 4) exit of the A5 motorway. Then follow the signs for "Le Camp" from the second roundabout.

More information about travel:
[edit]
What to bring
A must:
Towel, soap and shampoo
Power adapter for your country to convert to Swiss plugs (see below)
A torch, specially if it is possible that you arrive after the sunset (you arrive in the middle of the fields)
Front-desk number, so you can call if you have problems: +41 76 640 91 11
A print out of your specific travel directions, maps and travel cheat sheet
Your health insurance details
Other usefull things:
Ethernet cable, preferably long, if you plan to use wired networking
Powerstrip/multi-way electrical adaptor
Snacks and anything else you know you'll need during your stay (it's not easy to go out shopping)
Backpack instead of wheel suitcase
Bathing suit / towel / hat / sunblock and other beach supplies (Lake Neuchatel is nearby)
A warm pullover / rain coat / umbrella
Table tennis racket
[edit]
Le Camp
During DebCamp we share Le Camp with another group. Only the main building (shared), Zwingli and building number 8 were rented to us, no other building should be used! We can use all the outdoor space, knowing that it is shared with others.
During DebConf we have the whole Le Camp for us. Feel free to make use of this space anytime, in a respectful manner. There are many little spots which you may enjoy working outside and a lot of smaller rooms inside that can be used as unofficial hacklabs. If you use these spaces, leave them better than you found them - pick up litter.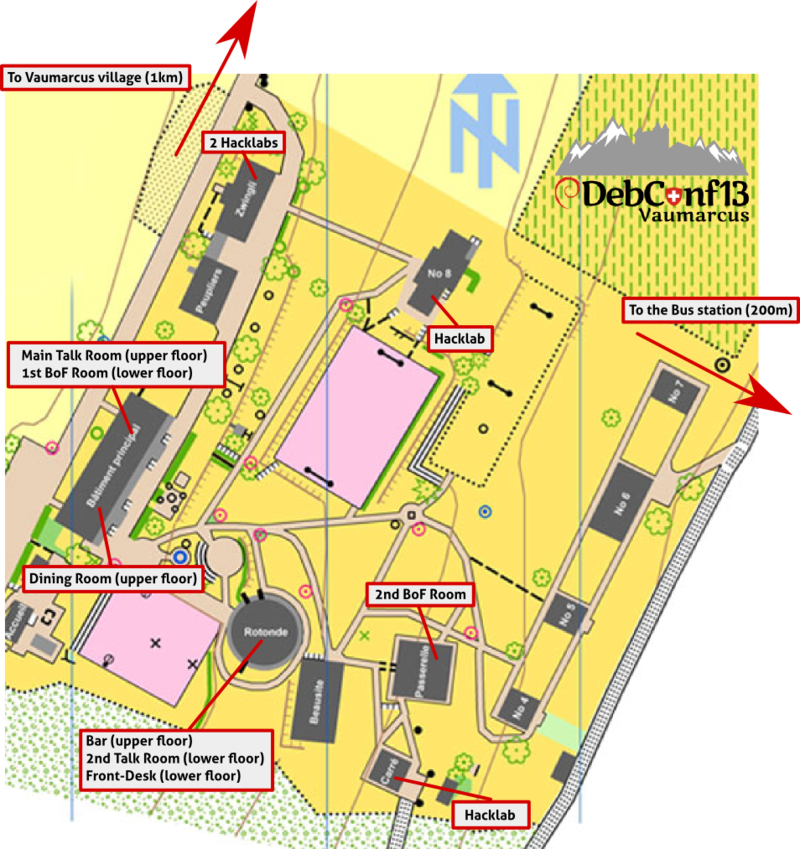 [edit]
Kitchen
Every building has its own kitchen. Participants are welcome to make use of them under the condition of cleaning after each use (same rule of respecting the comunal space applies).
The video-team coffee maker will be available for participants use in the Zwingli kitchen. If you plan to use it, please bring coffee and clean it after each use.
[edit]
Front Desk
Front Desk during DebCamp is at building #8. Front Desk during DebConf is at Rotonde building lower floor.
[edit]
Hacklabs
All hacklabs are open 24h. There are sleeping rooms and tents next to the hacklabs (except Carré). Please be quiet in hacklabs at night.
DebCamp:
Building #8 (setup first)
Zwingli
DebConf:
Building #8
2 Hacklabs in Zwingli (upper and lower floor)
1 Hacklab in Carré
[edit]
Talk and BoF rooms
Main talk room in the main building (Bâtiment principal) on the upper floor
2nd talk room in the lower floor of Rotonde
1st BoF room in the main building below the main talk room
2nd BoF room in Passerelle (not in the schedule but can be used for group meetings, projector will be provided)
[edit]
Dining room
Located at the main building, ground floor for DebCamp and upper floor for DebConf
[edit]
Accomodation
You will get your final room assignement on check-in at the front-desk.
No towels, soap and shampoo are provided, bring your own.
No cleanup is done in your room. Only bathrooms are cleaned. You should take care of the room yourself.
Morning talks from 9:30 to 12:15
Afternoon talks from 14:30 to 18:15
[edit]
Daytrip
If you did not already register for food, food tickets can be bought at front-desk one day in advance the latest.
Breakfast is from 8:00 to 9:30
Lunch is from 12:30 to 14:00
Dinner is from 18:30 to 20:00
There will be a bar operated by DebConf volunteers during DebCamp and DebConf.
Located in Building 8 during DebCamp
Located in Rotonde during DebConf
Opens after lunch until midnight
See also DebConf13/Bar
Note: tap water is suitable for drinking everywhere in Switzerland.
[edit]
Network and local network resources
Details about how to connect to the network at the conference and available resources will be published as soon as available.
[edit]
Laundry
It's possible to have cloths washed at Le Camp. This will be organized by Front-Desk. There are no self-service washing machines.
[edit]
Mobile Telephone and Internet
[edit]
Weather
[edit]
Automated weather forecast for Le Camp
http://www.meteoblue.com/en_GB/weather/forecast/week/4687675_ch_10852
[edit]
Weather forecast by the "Federal Office of Meteorology"
[edit]
Climate data for Neuchâtel
http://www.climatedata.eu/climate.php?loc=szxx0023&lang=en
[edit]
Power Outlets
Switzerland has its own standard which is described in SEC 1011, It will mostly work for type C European connectors (also known as "Europlug"). It will not work with type E (French earthed) or type F (also known as "Schuko").
Voltage is 230VAC/50Hz, most modern netbook & notebook power supply supports working from 100 - 240VAC, 50-60HZ, but check on yours just to be safe, and also check if you need an adapter, for images and more info you can check wikipedia or powercords.co.uk
Switzerland uses the Swiss Franc (CHF). Euros bills are accepted in many bigger stores. But you will get CHF in return. Swiss Railway Ticket vending machines accept CHF, Euros and credit cards. Credit cards are accepted in most stores, but not so common for small amounts.
The easiest way to get local currency is from an ATM. The nearest ATM from the venue is at Vaumarcus Castle about 1km away. There are plenty of ATMs in airports, bigger railway stations and cities. Please check the costs of cash withdrawal with your bank.
For payments on-site at the Bar or the conference front-desk we accept CHF cash or credit and debit cards (Visa, Mastercard, EC, Postcard).
[edit]
Smoking and Alcohol
Smoking is not allowed inside public buildings and restaurants in Switzerland. It's also not allowed inside buildings at the venue. Do not throw your cigarette ends away!
The legal age to buy beer and wine in Switzerland is 16 years. For stronger alcohol it's 18 year. This restriction will also be enforced at our bar.
In summer, Switzerland is on "Central European Summer Time" (CEST) which is UTC+2.
[edit]
Activities
Swimming in the lake is easily accessible on foot. Details are given on http://fam-tille.de/debconf/beach.html
[edit]
Info for speakers
Everyone is welcome to submit new activities (talks, informal meetings, discussion sessions, social events etc) until the end of the conference.
If you're going to use the projector for your talk in DebConf13 please make sure that your laptop has a working VGA output. We can't assure that DVI or mini/micro/regular HDMI support will be provided.
There is a room called "Second BoF room", which can be used during all the conference for talks, informal meetings, discussion sessions etc *without* the need of scheduling.
For private communication regarding your talk, please mail talks@debconf.org. For more general ideas or questions about talks or events, please mail debconf-team@lists.debconf.org.
If you have questions please contact video team people on IRC (#debconf-video) or mailing list (debconf-video@lists.debconf.org).
[edit]
Local Emergency Phone Numbers
| Emergency type | National phone number |
| --- | --- |
| Police (Police, Polizei-Notruf) | 117 |
| Fire (Feu, Feuerwehr-Notruf) | 118 |
| Ambulance (Ambulance, Sanität-Notruf) | 144 |
| Child/Youth Help (Aide pour les enfants et les jeunes/Telefonhilfe für Kinder und Jugendliche) | 147 |
| Poison emergency (Empoisonnements, Vergiftungsnotfall) | 145 |
| Rega Helicopter Rescue (Hélicoptère de sauvetage, Rettung mit Helikopter) | 1414 |
| Helpline for people in psychological crisis (La Main Tendu) | 143 |
| On-duty doctors, dentists, vets and pharmacies (24/7) | 0848 133 133 |
| Car breakdown service (TCS) | 140 |