DebConf8/Argentina/Mar del Plata
From Wiki
This is the information for the city of Mar del Plata, in Argentina. Which was the winning proposal for hosting DebConf8
For general info about the local-team in Argentina, and info about the country see DebConf8/Argentina.
[edit]
City of Mar del Plata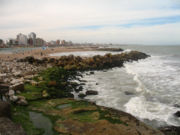 Are you suggesting a city, a town, a village, a spa in the middle of nowhere?

The hotel is located in the center of Mar del Plata, the biggest seaside beach resort in Argentina. Wikipedia entry.
But it's not just a holiday resort, it's a city full of life. It's the most important port in Argentina. It has its own national university, a lot of museums, and even its own International Film Festival.
There are several hotels that could be good for DebConf8, the data here is for the 13 de Julio hotel, which is our best offer so far. It's a big tower hotel, located practically in the center of the city. It's the place where the most conferences were held in 2005 in Argentina (66 conferences held there), so their "events" group is experienced in handling conferences.

How many people live there?

As per the 2001 census it has about 541,733 inhabitants, making it the 7th largest urban area in Argentina.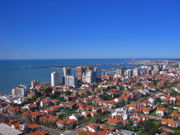 How easy/convenient is the proposed place to get all strange and regular kinds of hardware?

It's a big city, and most of the stuff should be easy to get. In the case that something would not be available in the city, it could be sent from Buenos Aires.

Electronic/electricity shops
Computer stores (A "media markt" like enduser oriented store doesn't count)
Supermarkets, etc.

There are a lot of supermarkets in the city.

How easy is to handicapped people move there?

Mar del Plata, as a city, is specially prepared for handicapped people, since it has hosted the para-panamerican games in 2003. link.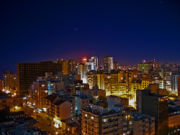 Which is the nearest airport?

Mar del Plata domestic Airport (MDQ).
Flights come only from Buenos Aires domestic Airport (Jorge Newbery - AEP)
When coming from a Foreign Country you should fly to Aeropuerto Ministro Pistarini, Buenos Aires (EZE) and then you have the following options:

Take a 5 hour bus, directly from the airport to the hotel (around U$S 30). There are usually 5 buses per day, leaving at: 02:30, 10:00, 12:30, 14:30 and 21:30. We can arrange to rent our own buses for the days when most people arrive.
Take a bus from EZE to AEP (aprox. 40 minutes, U$S 10), take a plane from AEP to MDQ (aprox. 1 hour, U$S 100 round-trip, 3 flights per day), take a taxi from the airport to the hotel (aprox. 20 minutes).
Stay at a hostel/hotel in Buenos Aires for one night (enjoying the stay at the capital city), then take the plane from AEP to MDQ, and the taxi to the hotel.

Are there any cheap airlines flying near the chosen city?

No really cheap airlines in Latin America. Currently, AirEuropa is offering EUR 800 for the Buenos Aires<->Madrid route.
[edit]
Eating in Mar del Plata
Zer0 suggested a very well known place to eat some meat. La Guapa located in San Lorenzo esq. Mitre. If you get there in weekend days, he suggests to make a reservation by calling to the number (0223) 495-9066.
[edit]
Conference Facilities
What kind of places are available suitable for hacklabs, workshops, BoFs and talks?

There are a couple of small auditoriums, and a bigger one for the talks. Prices for some rooms:

Atlantic: more than 400 people, for the conferences. (U$S 600 per day)
Topacio: around 200 people, for hacklab. (U$S 260 per day)
Muelle Azul: around 150 people, for hacklab / BOFs (U$S 140 per day)
Agua Marina: around 100 people, for hacklab / BOFs (U$S 200 per day)
Coral: around 60 people, for BOFs (U$S 140 per day)
Sala de arte: small room at the reception floor, for Info-Desk. Free of charge.

How much does it cost to rent these facilities?

The hotel discounts 10% of the fare of the conference rooms for each 100 people hosted. So, during DebConf, with 300 people we would get a 30% discount on the prices listed above.
If we choose:

1 hacklab for 200 people for the 2 weeks.
1 conference room for 400 people for 7 days (DebianDay + 6 conference days)
1 smaller room, for BOFs, for 6 days.

With the discount included for the second week, it would cost aproximately U$S 7000.

How far away are the locations from each other? (auditoriums, hacklabs, restaurant, sleeping quarters, info desk)

Everything would be in one hotel. It's a hotel in a tower, the furthest would be to have to take the elevator. Most of the conference rooms are two floors apart. The hotel has 22 floors.

How flexible can that be handled?

We can probably even contract a new room during our stay, since we are expected to be the only group in the hotel.

Can smaller auditoriums be merged into a bigger one?

No.

Are tables/chairs fixed, or can we arrange them to fit more people/give more room to the people that we need?

The rooms are quite flexible, nothing is attached, so everything can be moved around as we wish.

Is the venue ready for handicapped people? Note: Keep in mind that it's not only motion-handicapped - Is the area safe for people with any kind of handicap? (There are sight and hearing-impaired people, too.) Bonus: What people is it not good for?

Yes. This venue is proud to be without architectonic barriers. There are ramps that allow wheel-chairs everywhere, and there are special rooms for people in wheel-chairs.

Access to all areas with ramps and/or elevators? (Note: carrying somebody over some steps is not usually an acceptable option.)

Yes

Are there people with experience handling handicapped people, who checked that?

Not yet, but we plan to do it.
Are blueprints with exact distances available to us (to be kept confidential on request)?
What kind of audio equipment is already present at the auditoriums?

A couple of the rooms have speakers installed. The rest of the rooms don't have any audio equipment. However, the hotel is used to working with an audio/video company that rents the audio equipment and the projectors for most of the conferences. So, we would rent the whole equipment from them as well.

Will the hacklabs be allowed to stay open 24x7? What time schedule do they offer?

The fare for the conference rooms is given on a from 8:00 to 22:00 basis. Price for an all-night stay is being enquired.

What kind of security will be there?
Are there any limitations regarding the consumptions of food / alcohol? Where do what limitations apply?

No food / beverages limitations whatsoever.

How far is it to the nearest convenience stores / all-night restaurants?

Since this hotel is located in the middle of a big city, there are supermarkets just a few blocks away, and lots of restaurants too.
[edit]
Special rooms
Both for server and video rooms:
General conditions for the rooms

Size
Have they/do they need air conditioning?
What electrical load can they handle?
[edit]
Accommodation
How much does it cost per person per night?

U$S 14 in rooms of four people (U$S 15.5 in a triple, U$S 17 in a double).

Is the place where people are going to sleep near the conference facilities?

It's in the same hotel. It's a tower hotel. So, you'd just have to take the elevator.

Is it able to handle a varying number from 20 to 400 of people?

Yes. And there's even room for more people (for example, if DebianDay people want to stay at the same hotel, they can do it, although they'd have to arrange that themselves).

Is it able to handle non-native speaking people? (i.e. do the people at the sleeping facilities speak English?)

Yes, the hotel guarantees that at least one English speaking person will be available at any time of the day.

Will there be a need of a "Debconf" info-deskvvbbb, or would the local (hotel or such) people be able to handle that themselves? (See InfoDesk for details on duties)

The hotel could probably handle some of the tasks, but not all of them. We would be given a special place for the InfoDesk, next to the hotel's reception desk.

Will it be possible for couples to stay in their own rooms?

Yes. The extra price would only be U$S 3 per person per day to get a double instead of a 4-people room

How many room keys would be available?

Everyone is allowed to have their own key.

Are there other hotels around?

Yes, plenty of other hostels/hotels only a few blocks away.

Are there rooms ready for handicapped people? How many?

There are 2 special rooms for people in wheelchairs.