DebConf15/Bids/Germany
From Wiki
[edit]
Our proposal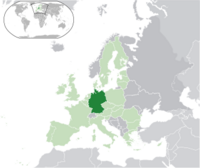 We propose to organise DebConf15 in Germany.
We inspected 76 different locations all over Germany and have identified two venues that we deem very suitable for our developers' conference: A youth hostel in Heidelberg and Munich's University of Applied Sciences, in combination with a nearby youth hostel. We have already entered the planning phase with both venues and we are convinced that we can organise a conference of very high standard at both of these locations.
Our favourite at the time of this bid is Heidelberg, but there exist good reasons that might make one prefer Munich. We would like to continue developing both options and to postpone the decision for one and against the other until after the committee has decided in favour of DebConf15 in Germany. We are confident that this approach will not only allow us to choose the better of two very good options, but that it will also be instrumental in pricing negotiations.
We created dedicated pages for each location and hope to provide a quick overview of the major up- and downsides in the following table:
Criterion
Heidelberg
Munich
Location
20 minutes from city centre, in between university, zoo, the river and sports clubs
Maxvorstadt, university quarter, slightly off-centre, great infrastructure
Transport
10 minutes by bus from main station, 90 minutes to Frankfurt airport (FRA)
5 minutes by tram from main station, 60 minutes to Munich airport (MUC)
Accomodation
all-in-one location (youth hostel with conferencing)
youth hostel 900m walking distance from conference venue
Capacity
320–430 people
300–450 people
Advantages

All-in-one location
Single contractual partner

University infrastructure
Great, spacious conference venue
Strong local team

Downsides

Network connectivity not yet arranged
Somewhat isolated

Negotiations with university very slow
Catering not yet arranged
900m walking between venue and youth hostel
24/7 access not possible

Prospective dates
August/September 2015
2015-07-25 – 2015-08-08
Details
/Heidelberg
/Muenchen
[edit]
Local team
The following people support this bid:
| Name | Location | Debian affiliation | DC experience | Other experience |
| --- | --- | --- | --- | --- |
| Martin Krafft | Munich | DD since 2001 | DC5, DC6, DC7, DC8, DC9, DC11, DC13 (press team DC7–9) | DE legal matters, treasury |
| Margarita Manterola | Munich | DD since 2005 | DC4, DC5, DC6, DC7, DC8, DC10, DC13 (DC8 organising team member) | |
| Rene Engelhard | Berlin | DD since 2002 | DC3, DC5, DC6, DC7, DC8, DC9, DC10, DC11, DC13 | |
| Bernd Zeimetz | Salzburg (2hrs from Munich) | DD since 2007, NM frontdesk | DC7, DC11 | Lighting, audio, event organisation |
| Michael Banck | Munich | DD since 2001 | DC3, DC6, DC7, DC9, DC10, DC11, DC13 (DC10 organising team member: talks team, science track) | Debian booth and BSP co-organiser |
| Richard "RichiH" Hartmann | Munich | DD since 2013, around since ~2000 | DC13 (DC13 network team member) | freenode, OFTC, and FOSDEM staff |
| Constanze Stohn | Munich | | | FrOSCon orga team 2008 - now, marketing specialist |
| Christian T. Steigies | Kiel | DD since 1998 | DC13 | Organized m68k porter meeting and advanced scientific programming in Python summer school |
| Sebastian Harl | Munich | DD since 2009 | DC7, DC13 | FrOSCon co-organiser 2011–13, organiser of numerous Debian (and some collectd) appearances since 2007 |
| Philipp Kaluza | Berlin | DM | DC7, DC11, DC13 | |
| Hannes von Haugwitz | Saarbrücken | DD since 2013 | | DE legal matters |
| Thomas Koch | Kreuzlingen (CH), ~4h from venues | DM | DC11, DC13 | ~10 years youth group work |
| Rhalina (Franziska Lichtblau) | Berlin | Contributing to Debian since 2007 | DC11, DC13 (DC13 network team member) | Debian booth and event organisation |
| zobel (Martin Zobel-Helas) | near Duesseldorf | DD since 2005 | DC5, DC9, DC11 (DC9 and DC11 NOC) | Debian booth member at several Events, DSA Team member, SPI Board Member |
| hefee (Sandro Knauß) | Göttingen | Contributing to Debian since 2013 | DC13 | |
| Joerg Jaspert | Fulda | DD | DC6...DC14, not all attended but all with $orgawork | various orgas of Debian booths and events, SPI Board member, [...] |
| Wolodja Wentland | Nürnberg | DM | DC13 | |
All of us are willing to help finish tasks from DebConf14. However, we have not yet talked about who will attend DebConf14.
No team members are in any way linked with any of the venues proposed.
[edit]
Contact
We use the following communication media:
Mailing list

Mail list archive

IRC channel

#debconf15-germany on irc.debian.org

Wiki page (minutes and notes)
[edit]
General information about Germany
Language / tourism

Germany is a well-known tourist destination. Especially the cities of our two bids, Heidelberg and Munich, are well-known internationally. Visitors can expect most people on the street to understand and speak basic English. Professionals, such as doctors, the police, as well as people working at hotels, information centres, and restaurants, will be able to converse and help in English.
Smoking

Bavaria and Baden-Württemberg, the federal states of our two proposed venues, have both banned indoor smoking in public places. As a result, DebConf15 attendees will be able to enjoy a smoke-free atmosphere. Smokers will, however, be able to pursue their habit outside of buildings, as well as in specially-designated areas.
[edit]
Travel information to/from Germany
Frankfurt (FRA) and Munich (MUC) are major international/Star Alliance hubs, and both within 1-1,5h of either venue. Germany hosts several more international airports (Berlin (TXL/SXF), Stuttgart (STR), Düsseldorf (DUS), Hamburg (HAM), Cologne/Bonn (CGN), among others). In addition, some smaller airports exist that are serviced by low-cost airlines, including Karlsruhe/Baden-Baden (FKB) near Heidelberg and Memmingen/Allgäu (FMM) and Salzburg (SZG) near Munich.
Furthermore, Germany sports one of the most extensive rail networks, with great connections to all neighbouring countries and their larger cities.
Details for getting to and from the venue is specific to the options we present. Therefore, this information is included on the subpages: /Heidelberg & /Muenchen
[edit]
Import regulations
The import regulations for Germany contain no surprises (no drugs, weapons, protected animals, or more than €10,000 in cash; "normal" amounts of duty-free stuff). We refer to the official customs webpage for more information.
[edit]
Visa requirements
Schengen member states: No visa required
Everyone else has to go by the official list. 126 out of 198 countries need a visa.

If your country is listed as "no", you can stay up to 90 days per half calendar year without the need for a visa.
If your country is listed as "yes", you

have to apply for visa at your local German embassy or consulate. See this list.
must have health insurance valid in Germany, covering at least €30,000.
must prove you're able to live within and leave Germany on your own, financially.
must prove that you are willing and able to leave Germany before your visa expires.
can get a letter of invitation for DebConf15. It's not a requirement, but it can help. You will be required to prove existing work for Debian to deter visa scammers.
More information is available from these web pages:
[edit]
(Prospective) Sponsors
We have not contacted any sponsors yet, with the exception of the possibility to sponsor e.g. networking and usage of a venue. Further sponsor acquisition should start as soon as a venue decision has been made. Also, some of the sponsors listed below are regular DebConf sponsors, so we need to coordinate with the DebConf14 team.
In any case, sponsoring DebConf15 in Germany will be only somewhat venue-specific, so we list them here, rather than on the venue subpages:
The usual suspects

HP
Google
credativ GmbH
Open-Source related

GUUG
Gonicus
Red Hat
SuSE (in Nürnberg)
Linux New Media
OpenSourcePress
Heise
Hetzner
Heidelberg-specific

City of Heidelberg
University of Heidelberg (network)
IT companies with local offices

1&1/GMX (United Internet) - in Karlsruhe, reasonably close to Heidelberg
SAP (Walldorf is close to Heidelberg)
Munich-specific

City of Munich / LiMux
Hochschule München
LRZ (network)
MVG (city-owned transport)
Veolia/BOB (regional transport)
IT companies with local offices in Munich

IBM
Sun
Intel
Google
Cisco
Juniper
Huawei
1&1/GMX (United Internet)
Large companies with large local offices and social commitment

E-on
M
Big Munich-based companies

Süddeutscher Verlag
BMW
Siemens
Allianz
Münchner Rück
Hypo-Vereinsbank
Infineon
MAN
Linde
Smaller Munich-based companies

M-Net (ISP)
Allnet (cables and networking gear, west of Munich)
Boston Computer (storage & servers, east of Munich)