DebConf14/Welcome
From Wiki
[edit]
Welcome to DebConf14!
This page contains general information about attending DebConf 14. It will be updated as better and more useful information is available.
It is important to know a few things before you come to DebConf; we try to make things smooth for you, but we also need your help.
The conference will be held at the Smith Memorial Student Union on the campus of Portland State University in downtown Portland.
[edit]
What to bring
Power adaptors

Portland is in the US, and uses US standard power plugs ("type A" / "type B"). Please be sure to bring any power adaptors you might need!

Power strip

Please bring a small power strip with the outlet type that your laptop and other devices use. Combined with the power adapter this will allow you and others to share power and make you a hero!

Ethernet cable

The construction of the dorms is not very wifi-friendly. You will probably have a more enjoyable Internet experience in your room if you remember to bring your own cable.

A print out of your specific travel directions, maps and travel cheat sheet

Your health insurance details

Sunblock / hat / sunglasses

if you're going on the day trip, expect to get some sun.

soap, shampoo, toothpaste (toiletries)

these are not provided for you in the dorm

Warm clothing

It's the summer, so this might sound funny, but the air conditioning will be running at full power at the university. It can get chilly inside the lecture rooms and the venue in general. It also gets cool outside in the evenings. We suggest you bring a sweater or two, possibly socks. You know yourself best.

Raingear

It doesn't rain very much this time of year in Portland, but if you want to be sure to stay dry while you're outside, you may want to bring an umbrella.

Toys, whatever

a frisbee, a soccer ball, cards, anything really. Make sure to label the items unless you declare them Public Domain.

Swimming gear

DebConf attendees are known to find water or sauna. If you don't want to be left out, bring your togs.
[edit]
Things you don't need
Towel

if staying in the dorms, towels will be provided
[edit]
Conference facilities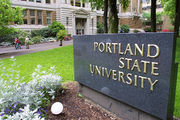 Our venue is the Smith Memorial Student Center 1825 SW Broadway, Portland State University, Portland OR 97201 (Osm link).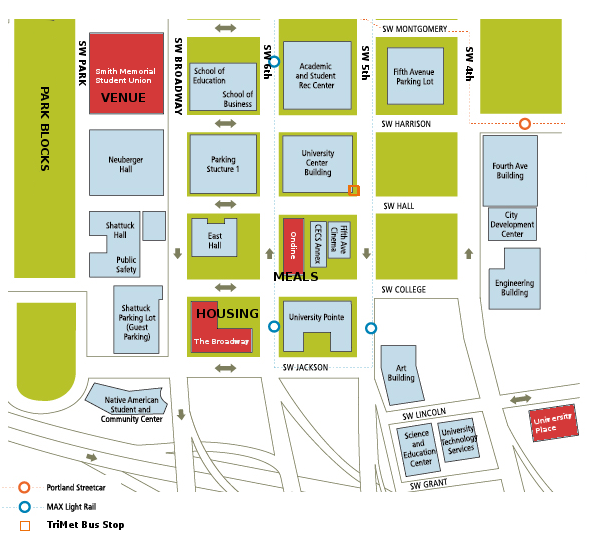 [edit]
On-campus accommodations
Unless otherwise indicated, all attendees are staying at the Broadway building - 1977 SW 6th Avenue, check in at Suite 210
The building has more than one entrance: the southern side at 625 SW Jackson Street is for residential access (once you have a key card), and the eastern entrance at 1977 SW 6th Avenue should be used upon arrival - head up the stairs to the second floor and down some hallways to the registration office (PSU Housing, suite 210).
You can find information about laundry rooms, mail, and amenities in the General Services page.
All meals for sponsored attendees will be served in Victor's, the cafeteria on the first floor of the Ondine building - 1912 SW 6th Avenue (shown on the above map).
Breakfast will be served from 7am to 8:30am on Friday, August 22. After that, breakfast on weekdays will be served 8am to 9:30am. On weekends, there is no breakfast, but brunch will be served from 11am to 1:30pm.
Other meals are as shown on the schedule.
[edit]
Coffee
See DebConf14/Coffee for information about conference coffee and tea
[edit]
PSU parking
Parking passes MUST be pre-ordered by sending email to shc@pdx.edu with "DebConf Parking" in the subject line and in the body the dates needed as well as attendee's full name.
Parking passes can be weekly (7 consecutive days) for $55 or daily for $12
Can be ordered for people staying on or off site.
Is not covered by DebConf sponsorship.
[edit]
Night hacklab
The main venue building closes at 10pm. For after-hours social hacking, the spaces on the second floor of both the Broadway and the Ondine residence halls are available for our use. All attendees are welcome to use these "night hacklabs", but per university policy, the front doors of these buildings lock at 8pm and only those staying on campus will have keyed access to them. If you are not staying in the dorms, buddy up with someone who is in order to get access.
[edit]
Arrival and registration
On arrival, you should first check-in at the Broadway residence hall - 1977 SW 6th Avenue, on the second floor (Suite 210). 24-hour check-in is possible; for best results, please make sure you list an accurate arrival time for yourself in your conference registration.
The residential entrance (the one you will need to take in order to get into your room) is around the corner on 625 SW Jackson Street. You will need to obtain your key and food ticket at 1977 SW 6th Avenue at room 210, and then go around the corner and take the Jackson street entrance to reach your room.
For those arriving on campus after 8pm, you will need to phone the PSU registration desk to be let into the building. Their phone number is +1-971-246-6028. Please be sure you call when you arrive at campus, and not as you're leaving the airport.
If you don't have a cell phone, there is a mini mart, Mak's Mini Mart, open until 2am on the corner where you can probably use the phone if you ask nicely. There is also a pay phone available at the corner of SW College and SW Broadway.
After checking into your room, you should check in at the front desk for DebConf registration, on the third floor of the Smith Memorial Student Union.
[edit]
Contacts
email: registration@debconf.org
IRC: #debconf-team@irc.debian.org
phone: +1-503-740-9606 (urgent issues only)
[edit]
Network
The "PSU-Guest" wifi network is available for use. This network is IPv4 only, behind NAT, so no inbound connections are possible, and outbound filtering blocks port 25. It uses a captive portal that requires daily activation via email. After connecting, open a browser and connect to whatever HTTP site you want. When prompted, fill out:
   First Name
   Last Name
   Phone (use "503-000-0000" if you need to)
   Email (use "debconf@research.outflux.net" if you need
          to, which will auto-activate for you each day)

Next read and accept the terms of use. Finally, for activation, "Register by email" is recommended, since it makes the network available for 10 minutes to give you time to receive email and follow the confirmation link. If remote connections do not work, you may need to reconnect to "PSU Guest" first to get rid of the temporary 10.x.x.x address assignment.
In the hacklabs, the wired network is also available from the 100Mb switches via DHCP, and is IPv4 only. These are public addresses, with inbound blocked, and outbound is blocking port 25.
The nearest Debian Archive mirrors are:
   http://carroll.aset.psu.edu/pub/linux/distributions/debian/
   http://mirrors.cat.pdx.edu/debian

[edit]
How to get to Portland State University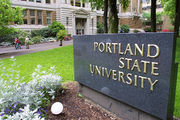 [edit]
Flying
Portland International Airport (codename PDX) is served by multiple airlines: Air Canada, Alaska, American, Delta, Frontiers, Hawaiian, jetBlue, Seaport, Southwest, Spirit, United, US Airways and VirginAmerica.
[edit]
Mass transit from the airport
[edit]
Summary
Duration: The trip will take approximately 50 minutes to the venue.
Tickets: The ticket machines are located on the left wall after the last baggage carousel on the lower level
NOTE: For arrivals *after* ~23:30, catch a taxi cab (see below); public transit is not really available, sorry.
Directions: 1. Take the MAX Red Line (last MAX is 23:49) to Pioneer Square North MAX Station #8383, transfer to one of:
or simply walk the remaining ~1.3km (Head east on SW Morrison St toward SW 6th Ave, Turn right onto SW 6th Ave and walk 1.2km. If you hit SW Jackson St, you've just passed the dorm)
For specifics, try Tri-met's trip planner, but make sure to reset the date and time for your arrival and departure: Trip planner from airport
[edit]
More details
A ticket good for two hours of travel on all trains and buses operated by Tri-Met costs $2.50 for adults aged 18-64, $1 for honored citizens aged 65 and older, and $1.64 for youth aged 7-17. An all-day pass can be purchased for twice this price.
If you've been to Portland before, please note that there is no longer a Fareless Square in downtown Portland; all trips now require a valid ticket at this flat rate.
More information about Portland public transit, including a trip planner and apps for schedule information, can be found on the Tri-Met website.
The trip to/from PSU takes about 50 minutes.
The ticket machines are located on the left wall after the last baggage carousel on the lower level. MAX stops also have ticket machines; half of them take credit and debit cards, half are cash-only.
It is also possible to purchase your tickets online with a smartphone app.
After purchasing your ticket, continue in the same direction and board the train, which departs every 13 to 34 minutes.
The last Red Line train departs from PDX at 11:49 p.m., daily.
The first Red Line train of the day arrives at PDX at 4:44 a.m. on weekdays and 4:45 a.m. on weekends.
These trip planner links show you the route, but make sure to reset the date and time for your arrival and departure: Trip planner from airport Trip planner to airport
Each Tri-Met bus and train stop has a unique numbered ID posted at each stop as well as found on their website, which can help you obtain schedule data.
Tickets bought on a bus may also be used on a train.
Once in downtown Portland, please only use crosswalks, as occasionally anti-jaywalking laws are enforced in the downtown core.
Stops of note:
One person taxi from the airport to PSU would cost approximately $42.
Taxicabs have a maximum charge based on number of passengers ($1 each for more than one passenger), stopped time ($0.50/minute if moving at 5 mph or less), and distance ($2.60/mile), plus fixed fees of $2.50 for the 'flag drop' (at the beginning of a ride) and $2.50 for an airport pickup. It is nearly 14 miles from PDX International Airport to Portland State University, so if there were no traffic delays, a one person trip from the airport to PSU would cost approximately $42. Fees can be negotiated with taxi companies in advance.
There is no Uber, Lyft or any other internet-mediated ride service. Shuttles, limousines and town cars must be prearranged by telephone at least an hour before pickup, and you may obtain a list of those private transit vendors at the Port of Portland website by clicking on the appropriate category in the center column. Cabs accept US dollars, MasterCard, VISA, and American Express.
The Amtrak Cascades from British Columbia, Western Washington or Oregon is most timely. The Coast Starlight from California and the Empire Builder from Eastern Washington and points east are much more likely to be delayed. All stop at Portland's downtown Union Station, codenamed PDX at [1].
Walk out of Union Station and turn left on NW Station Way. Turn left onto NW Irving St, right onto NW 5th Avenue and continue two blocks south to the Union Station/NW 5th and Glisan station (area map). Board a Green or Yellow Line MAX train, and get off at the PSU South stop.
[edit]
Driving
[edit]
From the North (on I-5)
Take Exit 302B ("Interstate 405/US 30W"). 2.9 miles later, take exit 1C for 6th Avenue/Ross Island Bridge, and stay left, followed by a sharp left onto SW 6th Avenue. 0.4 miles later, turn left onto SW Mill St, go a block, and take another left. The PSU parking garage is on the left.
[edit]
From the South (on I-5)
From the left lane, take Exit 299B ("Interstate 405/US 30W"). Get right as soon as you can. 0.9 miles later, take exit 1C for 6th Avenue/Ross Island Bridge, and stay left. 0.4 miles later, turn left onto SW Mill St, go a block, and take another left. The PSU parking garage is on the left.
[edit]
From the East (on I-84)
When the highway ends (mile marker 0), go left onto I-5 to Beaverton/Salem. Stay left, go over the river, and exit left to I-405 N, take exit 1C for 6th Avenue/Ross Island Bridge, and stay left. 0.4 miles later, turn left onto SW Mill St, go a block, and take another left. The PSU parking garage is on the left.
[edit]
Useful addresses
Supermarket Safeway / Safeway pharmacy
1010 SW Jefferson St. Portland, OR 97201
Walk to the corner SW Columbia Street with SW 10th Avenue
[edit]
Diversions
See DebConf14/Diversions.
[edit]
In case of emergency
If you need emergency medical, police or fire assistance dial 9-1-1.
non-emergency number for the Portland Police is 503-823-3333
Portland State has a Public Safety team, including emergency contact info
Closest Hospital is Legacy Good Samaritan located at 1015 NW 22nd Ave., Portland, OR 97210
Closest Urgent Care is ZoomCare Downtown Portland at 900 SW 5th Ave.
The Debconf Front Desk can be reached at +1 503 740 9606.