DebConf13/Switzerland/Archive
From Wiki
[edit]
Timing and Possible venues
To be decided, but probably near (1h or so) to an international airport (Geneva or Zurich).
Visa: Switzerland is in Schengen area, so any Schengen Visa is ok (to be checked: can a visa be reqested in any embassy of a Schengen country?)
Language: Many people speak English, French and German (especially in and near the "big" cities and the touristic areas)
[edit]
Timing
universities (June)

(+) in the cities, everything nearby
(–) accommodation maybe too expensive

in the countryside (October/November ?)

(+) easier to organize, natural environment
(–) difficult to find suitable venues

to be decided ? Probably July (or early August) ?
[edit]
Large cities
[edit]
Geneva
Filled LocationCheckList DebConf13/Switzerland/Geneva
In Geneva: Luca Capello, Giacomo Tenaglia, Michele Cane, Michael Germini, Gerold Rupprecht, Werner Staub
Geneva has excellent transportation links; it is the operational hub for Easy-Jet. It is a central location for almost all of Europe, as well as for numerous further destinations (including Montreal).
Possible venues include CERN, the University of Geneva, a number of international organizations.
During the summer, the city is generally quiet with numerous hotel vacancies (outside of the fête de Genève period). Geneva has a large lake, parks and other outdoor attractions making it an interesting place for spouses and children. There are even free films in the park near the lakeside this summer.

CERN is on the Swiss/French border and is served by a direct tram line. It is about 15 minutes from the airport. Please note, however, that I see both one big advantage and one big disadvantage with CERN: the former is that we will be where the WWW as we know today was born, the latter is that, despite being now directly connected by tram to the center of the city (line 18, 3), it take at least 20 minutes to arrive there. And looking for a dormitory nearby would mean not being near the lake...

The conference should be sustainable by itself, which means that the more it costs the more we should find money/sponsors. But once we have all the money needed, from an *organization* POV it does not matter if the conference is in an expensive country or not. OTOH, it is clear that having it in Switzerland would mean that activities in RL not linked to the conference itself are limited given their cost. Again, I see no reason to step back because of that, given that we had a DebConf in NYC, actually not the cheapest city in the world.
Obviously, we would like to have a DebConf in Genève. However, in case we go on I would support *any* Swiss city.
Why Genève? A quick note says that it is of a strategic importance at various level: AFAIK the UN office there is the one where the largest number of countries are represented (more than NYC or Wien) and there are other important international organization which the Free Software world is in directly "contact" with (like ISO or the UN-founded ITU) or not (the ICRC) and Internet Society (ISOC).
<http://debconf11.debconf.org/> <http://www.unog.ch/> <http://www.iso.org/> <http://www.itu.int/> <http://www.icrc.org/> <http://www.isoc.org/>
[edit]
Zurich
In Zurich: Axel Beckert, Giacomo Catenazzi, Martin F. Krafft (not really), Marcus Moeller, Salvatore Bonaccorso
About Zurich
Zurich is the largest city in Switzerland with close to 2 million inhabitants in its metropolitan area, containing about 25% of the country's population. Zurich is located at the tip of Lake Zurich between a couple of hills and traversed by two rivers. According to several surveys Zurich is among the top cities with best quality of life in Europe and it's also Europe's wealthiest city. The city is one of the world's largest financial center and the commercial capital of Switzerland. Zurich is also home to the Swiss Federal Institute of Technology (ETH Zurich) which attracts global companies' research and development offices, e.g. IBM or Google.
Possible Venues
ETH/UZH
We can make use of a big variety of rooms at the ETH Zurich and possibly also at the University of Zurich (UZH). Most of the rooms feature a projector, one or several white or black boards and if the size makes it necessary microphones and speakers. The ETH offers lecture rooms with up to 700 seats.
Both the ETHZ and the UZH have corporate-class wifi networks available for free. We can use all rooms for free but we might have to pay some cleaning crew (to collect garbage, keep toilets clean and clean rooms at the end of the event) which we estimate at EUR 400 tops.
As for restaurants, there's pizza, pasta, doener kebap and other food available in easy walking distance. More restaurants are available in the city, just 2-3 stops away and still walkable if you like.
Transportation
International Airport
Zurich has an international airport with flights from all over the world by most major airlines. Within Europe it might be cheaper to fly to EuroAirport Basel.
From Zurich Airport it's an 11 minute train ride to Zurich's main station.
Flight Costs
Prices from expedia.de, including:
Round trip
Economy Class
1 Stop tops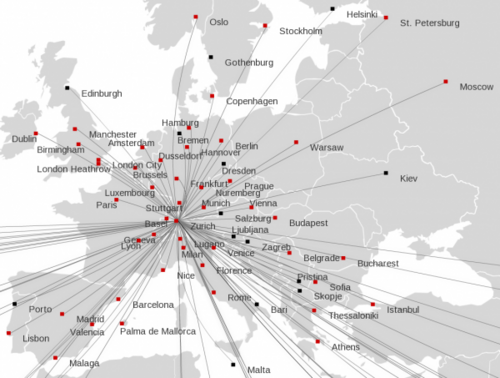 Europe
Amsterdam: EUR 153
Athens: EUR 205
Barcelona: EUR 84
Belgrade: EUR 184
Berlin: EUR 92
Brussels: EUR 189
Bucharest: EUR 154
Budapest: EUR 107
Dublin: EUR 157
Edinburgh: EUR 212
Glasgow: EUR 215
Goteborg: EUR 170
Helsinki: EUR 182
Istanbul: EUR 175
Kiev: EUR 177
Krakov: EUR 159
London: EUR 76
Lyon: EUR 168
Madrid: EUR 143
Manchester: EUR 163
Milan: EUR 131
Oslo: EUR 170
Paris: EUR 164
Prague: EUR 158
Prishtina: EUR 270
Rome: EUR 132
Sofia: EUR 177
Stockholm: EUR 137
Valencia: EUR 183
Vienna: EUR 108
Warsaw: EUR 78
Zagreb: EUR 153
United States
Boston, MA: EUR 582
Chicago, IL: EUR 612
Los Angeles, CA: EUR 692
New York, NY: EUR 613
Raleigh, NC: EUR 754
San Francisco, CA: EUR 612
International Train Station
Zurich has Switzerland's biggest train station (with 26 tracks and expanding) called Zurich HB (or also Zurich main station) and there's direct (night) trains from major European cities like Berlin, Paris, Amsterdam, Brussels, Milan, Prag and Vienna.
Switzerland's nationwide railway is operated by the Swiss Federal Railways (usually SBB or SBB CFF FFS) and their website can be used to get information about international trains as well as all local public transportation (rail, bus, tram, trolleybus, lake boat and cable car). Zurich's local public transportation provides is the ZVV.
Accommodation
Hotels
In general, Hotels in Zurich are really expensive, but there are a few nice and cheaper hotels, outside the city, mainly close to the airport.
Most hotels offeres high-speed internet access and an airport shuttle. Contingent booking should not be a problem.
We have requested an offer from the Allegra hotel in Kloten.
The hotel offers us a contingent of rooms as follows:
3x room with 4 beds, CHF 140.-/room/night
4x room with 3 beds, CHF 130.-/room/night
40x room with 2 beds, CHF 120.-/room/night
20x room with 1 bed, CHF 100.-/room/night ...totalling to 67 rooms with a total of 124 beds.
Additionally, a citytax of CHF 2.50/person/night will be charged.
The above offer includes:
Free "express" breakfast
Free mineral water on the room
Free parking spaces
Free shuttle bus to/from airport
Free access to the hotel's own fitness room
Free access to the town's indoor swimming pool
Free wired internet access in the room (possibly need a hub or switch tho)
All rooms are modern and have a toilet with shower, a safe and are fully accessible for disabled people.
Check-in starts as early as 08:00 and check-out is possible until 12:00. Accepted credit cards are American Express, Master Card, Visa and Diners Club.
Blast-Proof Bunker
Alternatively, the ETH has blast proof bunker with about 100 beds available costing EUR 550 (for all beds and nights combined, that is).
Free high-speed internet access is available for free in the bunker. Also, the bunker will protect everyone from alien invasions :)
It's just a couple of minutes to walk to the city's old town from the bunker.
If that's not enough, there is another bunker of similar size available, provided by the city council.
Food
The ETH Zurich as well as the university have several canteens. A meal costs about 10-15 EUR. In the morning and evening we could arrange some kind of catering which will lead to a overall costs of about 20 -25 EUR per day/person.
[edit]
Out there
[edit]
(BE) Macolin / Magglingen - BASPO
There is the "Sports- und Kurszentrum" of BASPO (de, fr). Sounds interesting, but too small it seems: hosting (fr) indicates a total of 260 beds.
[edit]
(NE) Vaumarcus - Le camp
filled LocationCheckList DebConf13/Switzerland/Vaumarcus
Le camp (on groups.ch)
155 beds in 2-8 people room 26 CHF per day per person.
170 beds in 14 to 26 people room (in chalet) 19 CHF per person per day.
Food is 40 CHF per person per day.
The prices may slightly vary.
Many rooms for conferences.
[edit]
(OW) Melchtal - Sportcamp Melchtal Haupthaus
Sportcamp (on groups.ch)
max 600 persons
two options:

Option 1

CHF 17.00, 1 night in the pavilion (dormitory) per person
CHF 150.00, Catering-House per day

Option 2

CHF 27.00, 1 night in the comfort-house nr. 1/4/5/14 per person
CHF 34.00, 1 night in the comfort-house nr. 3 per person
CHF 150.00, Catering-House per day per day

The prices may slightly vary
Many rooms for conferences
[edit]
(BE) Lenk im Simmental - Kurs- und Sportzentrum
[edit]
(VS) Fiesch - Sport- & Feriencenter
no pre-reservation before end of summer 2012
Sport- & Feriencenter (on groups.ch)
1029 beds (full board prices, for other solution see the detailed price list)

rooms with 2-4 beds for 57.00 CHF per day per person
dormitories with 6-14 beds for 49.50 CHF per day per person

dining room for 600 persons
seminar rooms

one with beamer for 200 persons
one with no beamer for 100 persons
various smaller ones
included in half or full board reservation (detailed price list)

connectivity
[edit]
Why in Switzerland ?
  * a beautiful country (Alps, lakes, landscapes)
  * multicultural cities with a human touch
  * headquarters of many international entities
  * four official languages
  * second highest ratio of DDs per country
    <http://www.perrier.eu.org/weblog/2011/06/12#devel-countries-201106-3>

[edit]
Network connectivity
Big Internet eXchange points
  * SwissIX: 21 Gbps, avg 9.4 Gbps
  * TIX: max 4 Gbps, avg 2 Gbps
  * CIXP: max 2 Gbps, avg 1 Gbps
    Capillary network coverage
  * Debian-friendly ISPs
    <http://en.wikipedia.org/wiki/List_of_Internet_exchange_points_by_size>

[edit]
Local Team
  debian.ch as an established legal entity
  * prospective CoreTeam of 3-5 people
  * 10 active members involved up to now
  local volunteers from various communities
  * LUGs, EPFL, HES, SwissLinux, Gull


http://www.epfl.ch/ http://www.hes-so.ch/ http://www.swisslinux.org/ http://www.linux-gull.ch/
Cheese & Wine Party:
Swiss Fondue and Raclette cheese has a wonderful taste.

[edit]
Infrastructure
  * well-organized country (tourism, ...)
  * good and dense transportation network
  * three international airports
  * member of the Schengen area
  * established local communities (LUGs, ...)

[edit]
Fun and Free time
Guided tours for groups:
Accelerating Science is CERN's flagship travelling exhibition. In five modules, it takes visitors on an extraordinary journey,
starting with the Big Bang. The particles, the mysteries of the universe and the LHC's exploration of matter guide the visitor 
through this early-21st-century scientific adventure.

[edit]
Bike tour
Bike tour along the lakeside: There is a bike rental behind the Cornavin train station. Bring your ID and a 50 CHF deposit and discover Geneva.
[edit]
Local Sponsors
We know companies and associations that might be interested in the conference.