DebConf11/Quito
From Wiki
[edit]
DC11 at UIO
¿Quiere apoyar la propuesta del DebConf 11 en Quito?
Ayúdenos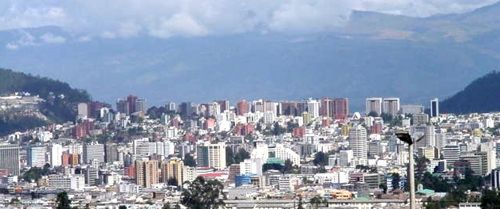 [edit]
Introduction
Hello, and welcome to the DC11 bid page for Quito, Ecuador! We ran for DebConf 10, where NYC was selected, and we're now even more sure than Quito will make a great host for 2011.
Ecuador is a major tourist destination in Latin America. Tourism is one of the big sources of income for most of the population. The local currency is the US Dollar, and most people speak english in most establishments, which are of international standards. Quito has an excellent record hosting big conventions, and both the city and the national government invest lots of money in tourism every year.
Quito. Oh, Quito. The first city in the World to be named a World Heritage Site. Visited by millions of international tourists each year, Quito's become a reference on biodiversity tourism and provides great sights for visitors and locals alike.
Our first financial approach make us think that we can expect to be in a budget similar to that of DC6. This, of course, might go up with inflation or go down as long as we get sponsors, which we have actually done with some success. On 2010 we managed to secure venue sponsors, cheap hotel prices, and a more sustainable focus for the conference, which resulted in a lower preliminary budget.
May-July is an appropriate window for the DC11 to eventually happen in Quito. July can be a very attractive month since you get clear blue skies with a very nice temperature. Then again, Quito's well known for having four seasons in a single day. Support Quito for DC11!
(Image credits go to Byron Calisto and Droman87, taken from Wikimedia Commons)
[edit]
Local team
Please name the main local team and describe their commitment (i.e. connection, work they have done before, how long...) in organizing events and working in Free Software projects. Are they perhaps even known inside Debian?
Of these people, which have been present at a previous Debconfs and who have participated as organizers and/or volunteers (the line might be quite blurry at times) of a previous Debconf?
This is a list of people who have already committed to take this bid on. As more people will join this initiative, they will be listed in this page. Debian Ecuador is the main organization behind the bid, and currently the following organizations have stated support for the bid: Tecnologías Libres del Ecuador ONUVATEC, Asociación de Software Libre del Ecuador (ASLE), Debian Ecuador, Ubuntu Ecuador, ESOL/Universidad Nacional de Loja, Escuela Politécnica Nacional (Carlos Novoa), Universidad de las Américas (Xavier Armendáriz) and Universidad Politécnica Salesiana (Renato Cumbal)
[edit]
Active
José Miguel Parrella Romero (bureado) Debian Developer, have been attending DebConfs since DC6
Ailé Carelén Filippi Sánchez (ailefi) Debian User, part of Debian Women-ES, attended DC8
Sandra Morocho Ruilova, Debian User, works for a local Debian-based consulting firm
Máximo Terán, Debian User, works for a local Debian-based consulting firm
Pedro Franco Alvarado, ubuntu LoCo Team Contact in Ecuador, teacher, activist from SL and chief of FLOSS consulting firm.
Diana Gómez Lastra, Debian User, works for a local Debian-based consulting firm
Gina Brito Bárcenes, ubuntu LoCo Team Ecuador and Ubuntu Women member , phycologist, and CEO of FLOSS consulting firm.
[edit]
Reserves
Yonel Meza (rvntone) Debian User, programmer and works for a local Debian-based consulting firm
Julio C. Ortega (Roliverio) debian user, FLOSS activist
Rubén Romero (huayra) Ubuntu Community member, Ubuntu Ecuador Local Community founder. works as Sales Specialist at Redpill Linpro, the biggest FLOSS Service and Consultancy company in the Nordics (Denmark, Finland, Norway and Sweden)
People who have offered support: Maximiliano Cáceres, Carlos Llumiquinga, Carlos Novoa, Rafael Bonifaz, Jaime Casanova and Milton Labanda.
[edit]
Local events
While Ubuntu Ecuador holds nationwide Ubuntec's, this year three big events are to be held: the FLISOL 2010, which is a big event made in Latin America to promote free software installation, the ECUASOL 2010, which is a nationwide congress on free software, and several, smaller BarCamp events in Quito, Loja and other cities. Both bureado and ailefi, local team actives, have had experience in the organization of big international events such as FMCL in Venezuela, four years in a row with thousands of visitors, and are also DebConf attendees.
[edit]
Why Quito?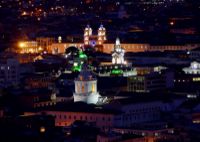 Are you suggesting a city, a town, a village, a spa in the middle of nowhere?

Quito is the capital of Ecuador, the most important city in the country
How many people live there?

About 1.8 million people in metropolitan areas, 1.3 million in Quito City
How easy/convenient is the proposed place to get all strange and regular kinds of hardware?

Electronic/electricity shops

Ecuador has few, if any, import restrictions on personal electronics. Importronic is a major electronic/electricity component importer with a large stock in Quito

Computer stores (A "media market" like enduser oriented store doesn't count)

Ecuador has few, if any, import restrictions on personal electronics. As a result, there are several local distributors (Akros, DOS Compuequip, OCM Computer, CEDECOMP) which have specific hardware on stock in Quito or can bring it from Guayaquil in 48 hours or less.
There are several computer chains which can provide almost anything needed, specifically Computron.

Supermarkets, etc.

Supermarket chains are huge and provide not only food but also clothes, books and electronics, such as Supermaxi. There are several Supermaxi's in Quito, as well as other market chains.
How easy is to handicapped people move there?

Far easier than most Latin American cities (maybe except for Brazil and Argentina), as public transportation and most sidewalks feature ramps and facilities for people with reduced mobility.
Bigger avenues also feature auditive signals for crosswalks.

The proposed venue, as well as the most touristic parts of the city is ready for handicapped people.

Special cycling streets, bike rental and bike tours!
Locals work very hard on mobility, and they're amazed if it takes you twenty minutes to go from one side of the city to another
Which is the nearest airport?
Are there any cheap airlines flying near the chosen city?

There are no local "low-fare" airlines, but it would be very cheap to travel with traditional airlines.
It would be cheap for people from LatAm countries to visit Ecuador (220 USD CCS-UIO-CCS)
It would be cheap for people from the US to visit Ecuador (376 USD MIA-UIO-MIA)
It would be cheap for people from Europe to visit Ecuador (893 USD MAD-BOG-UIO-BOG-MAD)
American, Delta, Continental, LAN and Aerogal fly to the United States, several times daily.
KLM, LAN and Iberia fly to Europe, directly, daily.
Aerolíneas Argentinas, Avianca, TAM, LAN, SBA Airlines, TACA, Copa Airlines, offer several daily flights to Latin American, Central America and the Caribbean.
LAN offers great connections for Asia and Australia.
Avianca, LAN and SBA Airlines offer cheap Europe and round-the-world connections daily.
Ecuador is a very cheap country at least for food, lodging, transportation and entertainment. The local tourism ads state you get 'refreshingly great value for money'.
How long does the trip from the airport to the venue take?

Less than 15 minutes on a taxi, as the airport is located in the city.
Are there any import regulations, which might affect DebConf? (e.g. a limit to number of notebooks / DVDs / other media you can bring in; hard regulations for money transfers; etc.)

No. Ecuador has few, if any, import regulations for personal effects. Incoming money transfers don't pay specific taxes.
Language: Do most people talk English? How hard is it for a foreigner to find their way around?

Most, if not all, hosts in Quito speak english (as well as lots of the citizens), and there's a lot of english-based tourism information around. This also holds true for some european countries.
Ecuador is, by far, one of the most welcoming country for tourism in Latin America, receiving more than one million tourists in 2008.
New York Times, National Geographic and several other travel guides highly recommend Quito and Ecuador as a travel destination. See at the end of the page for links.
UPDATE: VisaHQ Requirements for Ecuador, official source for no-visa requirements (spanish)
[edit]
Das Venue
The proposed venue is the Escuela Politécnica Nacional near La Mariscal, just north of the Downtown in Quito. EPN has offered to help us as an sponsor offering all talks, workshops, orga-team and hacklabs rooms. EPN is a university, so we can expect university infrastructure around, but they won't give us access to connectivity and that wouldn't be necessary anyway (see below for the connectivity plans)

The venue is ready for handicapped people, and has elevators and ramps
Plan B would be Universidad de las Américas, almost the distance from the venue, we would have bigger but fewer rooms (like for 150+ people) and complete access to the connectivity, and we could plug our providers if needed.
Plan C would be Círculo Militar near La Mariscal, with 10+ rooms which can fit up to 400 people/room each. People would sleep in Hotel Sebastián and nearby hotels/hostels. All on walking distance.
For all plans we'll have a connectivity sponsor which will deploy at least 5 E1 connections for dedicated usage throughout DebCamp and DebConf.
How much does it cost to rent these facilities?

Fees will be waived in exchange of sponsorship status.
How far away are the locations from each other? (auditoriums, hacklabs, restaurant, sleeping quarters, info desk)

A 10 minute walk from the hotel to the venues.
What kind of places are available suitable for hacklabs, workshops, BoFs and talks?
How many people fit in each of them?
How flexible can that be handled?

It's university-like, if we need specific rooms which are available, we can handle that.
~-Can smaller auditoriums be merged into a bigger one?-~
Yes.
Are tables/chairs fixed, or can we arrange them to fit more people/give more room to the people that we need?
Is the venue ready for handicapped people? Note: Keep in mind that it's not only motion-handicapped - Is the area safe for people with any kind of handicap? (There are sight and hearing-impaired people, too.) Bonus: What people is it not good for?

Yes. The venue is in a quiet spot of the city, they have ramps and elevators in all areas.
Access to all areas with ramps and/or elevators? (Note: carrying somebody over some steps is not usually an acceptable option.)
Are there people with experience handling handicapped people, who checked that?

Hotels will be OK, but for the venue we'll have dedicated people for this.
Are blueprints with exact distances available to us (to be kept confidential on request)?
What kind of audio equipment is already present at the auditoriums?

We need to provide this equipment.
Wireless or stationary mics?
clip-on kind of mics or cary in your hand mics?

What we need. We'll have to provide it.
How many of them?

We'll have to provide it.
Will the hacklabs be allowed to stay open 24x7? What time schedule do they offer?

Yes, in general (universities aren't fenced and office-hours-onlye here), and we could setup a hacklab near the hotels.
What kind of security will be there?

There's private security 24/7 on the venue. The hostels also has a 24/7 private security service, as well as most of the places near the hotels.
Are there any limitations regarding the consumptions of food / alcohol? Where do what limitations apply?

Smoking is only allowed outside conference rooms.
Alcohol is banned on the university.
Outside this venues, you're free except for specific regulations.
How far is it to the nearest convenience stores / all-night restaurants?
In the sleeping quarters, each block has all-night restaurants and every two- or three- blocks have convenience stores open until late or 24/7.
In the meeting rooms, a 10-minute electrical bus ride to Historical Downtown provides you with restaurants and convenience stores until dawn.
[edit]
Food FTW
We held meetings with a local catering company (Grupo EDG) which fulfilled these questions:
How much are the meals per person per day?

Around 5 USD per each meal (lunch or dinner, no breakfast)
Is the eating place near the talks place / the hacklabs?

On-site, in a separate gallery near the talk rooms
What kind of food would be served?

Catered buffets. Anyway food is very cheap in Ecuador (from 5 USD to maybe 15 USD in the trendier places) so people could take dinner near the sleeping quarters by themselves
In what fashion? (service to the table, limited buffet, open buffet, etc.)

Open buffet, in a separate gallery near the talk rooms
Would food for vegetarians / vegan / lactose-alergic / religious (of any denomination) people be available?
How much meals do we need to order to get those kind of "special" meals?

They don't require us to buy a special number
Will it cost extra to get those special meals?

No, not at this moment at least
In a two week period, how many more or less equal meals can we expect?

The menu would probably repeat the second week.
[edit]
The Intarweb
Is the area already wired with regular network infrastructure? (much preferrably: 100Mbps or 1Gbps switched)

Yes, we have wired and wireless infrastructure on-site, with dedicated connections, and we'll setup at least 5 E1 connections with our own connectivity to complement. Hotels have 1-2 Mbps wireless Internet access, not connected to our network.
How much does it cost and how difficult is it to get a big internet connection? (10/20 Mbits at least)

Fees will be waived in exchange of sponsorship status.
How much work does it imply to cover the area with wireless links?
If we use someone else's infrastructure, how easy / flexible can that be handled, regarding routing / firewall / ip-range / public access / other stuff?

Probably not gonna happen and not needed anyway since we'll provide our own links.
Do we have restrictions on allowed ports?
Are we traffic-shaped? Or can we set a traffic shaper if we need so?
Would it be possible to set up the network before Debcamp? (a day or two, earlier would be nicer, in order to handle problems gracefully. Additional weeks for wireless.)

Definitely, as long as we don't mess with ongoing activities.
Both for server and video rooms:
General conditions for the rooms

We can get an office on-site which allows us to store equipment and set some servers.
Size

Around 60 square meters for the office.
Have they/do they need air conditioning?

No. Quito is a chilly city, and these kinds of rooms, away from IT datacenters, are not used to have air conditioning
What electrical load can they handle?

Definitely not datacenter-grade, but should be OK for tower servers.
[edit]
Sleepycat
The plan is to host everyone in La Mariscal, Quito's entertainment district.

We secured rates for 20 USD/person/night, for 583 spots in -at most- 22 hotels in a 2-3 quarter sector. We didn't count bigger hotels with 100+ capacity, which are also an option. We didn't force this to be multiple-bed room like 6 people in a room, but we can do that.
We will select the most accessible accommodation for guests with special mobility needs.
This district (La Mariscal) is very touristic, so everyone around speaks english and is able to help you.
How much does it cost per person per night?

For example, a hostel (Hostal Santa Bárbara) costs 22 USD/person/night in a single (double-sized bed) room, and a four-star hotel (Hotel Sebastián) costs 60 USD/person/night in a single (double-sized bed) room.
Is the place where people are going to sleep near the conference facilities?

It's a 10-minute walk or a 1 USD taxi.
Is it able to handle a varying number from 20 to 400 of people?
Is it able to handle non-native speaking people? (i.e. do the people at the sleeping facilities speak English?)

Spanish and english are guaranteed, french is also spoken in several places.
Will there be a need of a "Debconf" info-desk, or would the local (hotel or such) people be able to handle that themselves? (See InfoDesk for details on duties)

The hotel/hostel can handle this.
Will it be possible for couples to stay in their own rooms?
How many room keys would be available?
Are there other hotels around?

Around twenty (not counting 4 and 5 star hotels which are around but out of the budget)
Are there rooms ready for handicapped people? How many?

Yes, but we should know our numbers in advance since most places only have one-two fully accessible rooms (while some hotels have ramps or elevators)
See our list of hotels/hostels, prepared by the local team, here
[edit]
Procrastinating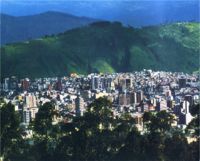 The Zone of La Mariscal is the main entertainment area in Quito

...it boasts lots of restaurants, clubs and underground establishments (heh)
...you can decide between the full-of-tourists zone around Plaza El Quinde
...or you can explore the underground establishments

Attractions around Quito include La Mitad del Mundo, which is a monument marking the equator imaginary line

...you might not be welcome to show that Coriolis also doesn't apply to toilets or basins in the equator

Ecotourism is, by far, one of the best things you can do in Ecuador.

We recommend everyone to stay a couple days after/before the conference and go to Galapagos Island.
...or maybe take a walk on world's largest lung (Amazonas)
...or maybe take a dip in the Pacific Ocean
[edit]
Local bling
Take a look at our budget draft
Several businesses in La Mariscal are willing to offer discounts in beds, entertainment and food
A couple of local Debian-based consulting firms will help out with money and logistics
We're still talking with national government sponsors which could help us out with connectivity and money
There is an operation of HP and other of IBM here, which we'll have to poke until they agree to sponsor us
As per prospective sponsors, local team made a huge campaign on February 2010, here are the results:

Puntonet will probably become our connectivity sponsor, but they will evaluate this if Quito's bid is selected
Ecuanet wasn't interested to help at this moment
Office of the President, Subsecretaría de Informática is willing to help since they're in charge of open source deployment in Ecuador, they will study details if Quito's bid is selected, they have a record of supporting these events nationwide
Movistar is banned from sponsoring events not related to childhood in Ecuador, but they will sort this out and maybe become a connectivity sponsor for a nominal fee, will study details if Quito's bid is selected
Alegro PCS didn't respond in time
City of Quito will study this in July, which is the month where they secure funds for sponsorships
[edit]
Not convinced?
Warning: Flash might be ahead.
[edit]
Weaknesses and strenghts
[edit]
Weaknesses
Third time in four years a DebConf is held in a spanish-speaking country (¡hola, amigos!) even if Ecuador has a good tourism infrastructure for english speaking visitors
Third time in four years a DebConf is held in America, which we think reflects increasing interest and participation while still welcoming our fellow Developers from the other side of the Ocean!
Non-direct routes for specific visitors, e.g., some parts of Europe, Asia, Oceania, yet not that bad when compared with other bids, and balances with cheap options for America for a great travel costs matrix
Nobody will commit to anything until we have selected a venue for DC11, but we think this holds true for any bidders in any DC!
[edit]
Strengths
HUGE support for the event in local communities, government and prospective sponsors, we will die if needed to get this done, and we will help to improve the technical involvement of the local community!
Big and competitive array of economic options for venues, connectivity (yay, improved!), food, daytrip and accommodation, see our budget draft for details
Minimum hassle for DebConf operations, as in visas, import regulations, taxes, getting money in and out, dollar is the local currency, and people would be able to run on their own money if they want to since it's quite cheap here