DebConf9/Accessibility
From Wiki
[edit]
Checklist
Please visit the content of DebConf9/AccessibilityChecklist wikipage!
[edit]
Accessibility for people using wheelchairs
[edit]
Wheelchair Dimensions
Usually wheelchairs has 65cm of width and 120cm long; scooters are a bit bigger. 75cm of width and 145cm long. Please consider these measures when checking the doors (rooms, lifts, cars, restaurants, day trip place etc).
[edit]
Transportation to Cáceres
Handicapped people can take the regular trains from Madrid to Cáceres. The best option I guess is first going from Madrid International Airport to Chamartín or Atocha train station (Chamartín seems to be closer). Both stations are accessible - the one in Cáceres too. According to worldtaximer.com, the taxi to Chamartín costs about 20 euros. I've seen around that it can be even cheaper (12-15 euros). An adapted taxi (they call Eurotaxi) can be asked by calling one of these companies phone numbers in Madri. There are also Eurotaxis in Cáceres.
People can travel without leaving their wheelchair. However, according to this official guide, the dimension are limited to 70cm x 1.30m x 1.40m. Please follow the instruction in the guide to know how you can buy the tickets.
Just to have an idea about distances, in the following map, A = Madrid Airport, B = Chamartín Station and C = Atocha Station.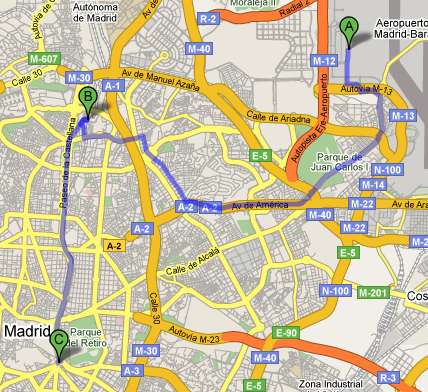 [edit]
More info
Transporte para personas con movilidad reducida [ES]
List of metro stations with universal accessibility
Train company guide for accessibility
List of accessible train stations
[edit]
Lodging in Cáceres
Muñoz Torrero has one room (#35) for a handicaped person. It's on the first floor and the place has ramps where needed as can be seen on the entrance door for example, see https://gallery.debconf.org/v/debconf9/Foto1489.jpg.html
The room has an adapted WC, adapted elevators and doble doors. There is already a handicaped student making use of the room, plus it is just across the street from the venue. Seems like a good option. :-)
ASK for hotel with adapted rooms. ana points an alternative place residence |www.cocemfecaceres.org
CHECK adapted bathroom. Fine at room #35 at Munoz Torrero
Link from a specialised website about Cáceres hotels: http://www.minusval2000.com/ocio/extremadura/caceres/hoteles.html
Venue has ramps and elevators. we are still waiting for information from the janitor how wide they are. When we visited the venue we took pics to show how wide the doors etc are. These pics are at https://gallery.debconf.org/v/debconf9/ - https://gallery.debconf.org/v/debconf9/Foto1486.jpg.html and https://gallery.debconf.org/v/debconf9/Foto1484.jpg.html specifically.[1][2]
CHECK doors are wide enough for the wheelchair and elevator availability. It is fine, access to all six conference rooms is available. It also has a couple adapted WC and a couple floors with adapted elevator. Handicaped people already making use of it.
CHECK wide spaces to move with wheelchair. It has wide spaces
[edit]
Transportation inside Cáceres
CHECK how far and easy to go is from the venue to "restaurant". If restaurant is in the residence Munoz Torrero (still need to check) it is across the street
CHECK how far and easy to go from the venue to the hotel. Venue to Munoz Torrero is across the street. 150 meters.
CHECK if restaurant is accesible via ramps/elevator. Munoz Torrero is accesible.
Ana wrote: If the venue is far from the hotel, a car is needed. Also for the lunch if it is not close to the venue. Lunch will be inside the main accomodation which is 500m from the venue. HectorOron (zumbi) wrote: I shall bring my car and I can sync with Otavio (any other people needing a ride?)
[edit]
Day trip
Accessibitlity needs need to be taken into consideration. Day trip hasn't been planned yet.