DebConf17/Conf-dinner
From Wiki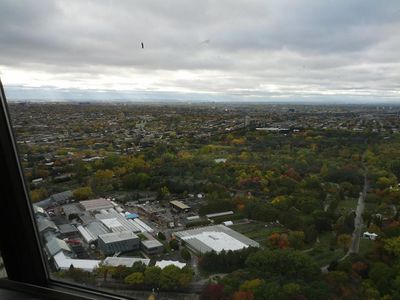 The conference dinner will be Thursday August 10th.
It will consist of two parts, a special dinner served in the venue cafeteria, followed by a reception at the Montréal Tower.
[edit]
Dinner
A fine buffet-style dinner with table service and a free drink will be served in the cafeteria of the Collège de Maisonneuve at 18:30.
There is no extra cost to those who have received a food bursary, it's included. For users of the meal card, the cost per person is the same as for other dinners (7,50 CAD) and will have to be purchased in advance.
[edit]
Reception
Following the dinner at Maisonneuve, all DebConf attendees are invited to a special reception held on the top floors of the Montréal Tower.
The reception starts at 20:00 and will end at midnight.
There will be music entertainment and free snacks. The bar will serve wine, beer and non-alcoholic drinks for a price.
[edit]
Getting there
The Montreal Tower is near the DebConf17 venue and is an approximately 10 minute walk. No motorised transport will be provided.
To get to the tower, you can exit the venue by the Bourbonnière exit and walk on Pierre-de-Courbertin street. Enter the site just past the Centre de médecine sportive and walk toward the back of the tower until you reach an entrance labeled Tour de Montréal - Observatoire.
We made a map showing the path.
The funicular inside will then take you to the top floor of the tower.
[edit]
Drinks
#1 Bitter ~ Bitter 35 ~ Farnham Ale & Lager
A traditional English Pub Ale, malted and medium-bodied, bold in bitterness and hop aroma.
#2 Stout ~ Saint-Barnabé ~ Le Naufrageur
All in coffee and chocolate, this creamy oatmeal beer is as dark as it gets. Taste of roast and bitterness reminds a good espresso.
#3 Brown Ale ~ Ordre de toast ~ Lagabière
L'Ordre de Toasts is named after a marriage of Belgian and English malts that result in a peculiar toasted bread taste. Its sweet bitterness lets the malt express itself to the fullest.
#4 IPA ~ Yakima ~ Le Castor
This beer is an homage to the West Coast hops, growing Est of the Cascade Range. The result is one of the best IPA in Canada. A lemony and fruity bitter beer.
#5 Pilsner ~ La Pitoune ~ Le Trou du Diable
A richly malted, herbal Pilsner. Its crispy but very mild bitterness make it a refreshing beer.
#6 IPA ~ Cascade ~ Brasseurs Illimités
An American IPA brewed with Cascade hops, making it both a very bitter and very citrusy beer. Bottled grapefruit.
#7 American Pale Ale ~ P'tite Brett ~ À la fût
Using wild yeasts and aging this beer for a month in oak barrels makes this beer unique. Bitter, a little sour with a malty finish.
#8 Tripel ~ Tante tricotante ~ Microbrasserie du Lac
With fresh hops from Alsace, this beer tries to replicate classic Belgian Tripels: strong, spicy with a sweet finish.
#9 Witbier ~ Blanche de Pratto
A wheat beer, cloudy and refreshing. Ever so slightly sour, this beer has been brewed with coriander and gives out hints of citrus.
#10 Gluten-free ~ APA, IPA, Red, Blonde ~ Glutenberg
Glutenberg brews gluten-free beer that are as good as "regular" beers. Our selection includes an American Pale Ale brewed with Amaranth and Quinoa, a delicious IPA, a red beer and a blonde.
#1 Rosé ~ Domaine Le Pive Gris ~ France
A grey wine of Camargue, this rosé is made with Grenache, Merlot and Cabernet franc grapes. Not acetic, it is a slender, light-bodied dry wine.
#2 White ~ Regaleali Bianco 2016 ~ Sicilia
This dry, light and fruity white displays a simple and medium nose. On the palate, its refreshing acidity and slender texture precede a medium finish.
#3 Red ~ Domaine Vincent Willenbucher Vieilles Vignes Côte Roannaise 2014 ~ France
This organic red wine is made entirely of Gamay grapes and had grassy notes, with hints of red fruits and pepper.
[edit]
Non-alcoholic
We'll have both Sprite and Coke for people who do not drink alcohol.
We will also serve four different flavors of Kombucha:
Cherry
Mango
Hibiscus-Chai
Pineapple
[edit]
Fun facts
The Montréal Tower is 165 meters high, making it the highest inclined tower in the world
It tilts a full 45 degrees (the Tower of Pisa tilts 5 degrees)
The lower 92 meters consists of a 145 000 metric ton reinforced concrete structure
The upper section had to be built with lighter steel instead of concrete because of a sinking risk uncovered during construction
It took 10 years to fully complete construction of the structure (1977-1987)
The funicular stays upright during the ascent of the tower's rounded spine thanks to a hydraulic support system
The base of the tower houses the Olympic Park's Sports Complex which includes several swimming pools and gyms
The interior area of the tower was originally conceived to house offices, but remained unoccupied since construction ended
Construction work currently being undertaken in the tower aims to renovate the spaces to receive its first ever tenants: 1,000 employees of Desjardins Bank
The dinner was originally supposed to be more expensive but it wasn't shown on the registration form until it was too late, yay bugs!