DebConf16/Venue
From Wiki
[edit]
Maps and Location
Maps of all UCT campuses can be found here: [1]. DebConf will take place in the Menzies Building on Upper Campus, in block C4 on this map. The main accommodation is at Fuller Residence, in block E4 on this map, about 150m from the conference venue.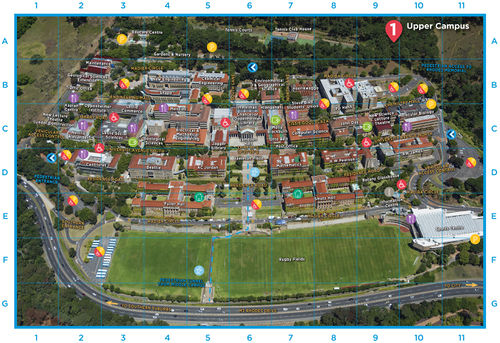 [edit]
Directions to the venue
Directions to UCT from the airport can be found on this page: [2]
[edit]
Conference layout
Formally allocated venues:
Chemical Engineering Seminar room (good for lectures or meetings, seats 98)
GH Menzies Building, lecture theatre 10
GH Menzies Building, lecture theatre 9
Snape Building SNLT2
Snape Building: Teaching studio 2A
Snape Building: Teaching studio 2B
Snape Building: Teaching studio 2C
Snape Building: Teaching studio 3A
Snape Building: Teaching studio 3B
Snape Building: Teaching studio 3C
Snape Building: Teaching studio 4A
Snape Building: Teaching studio 4B
Snape Building: Teaching studio 4C
The main lecture venues are likely to be the Teaching Studios. 3B, 3C, 2B and 2C seat 130 each, and each seat has its own plugpoint. Level 3 colours are green, Level 2 is orange and also has two identical of these rooms, and level 4 is red with rooms seating 110 each. The teaching studios are designed for group work, as can be seen by the extra width of every second row.
The gallery for all images taken during the bid process can be found at the DebConf Gallery [3]
[edit]
DebCamp at the Club
In addition to the conference venue, there is also a cozy pub close to the accommodation, with a fireplace and pub restaurant. It is located in the Sports Centre in block E10 on the UCT Upper Campus map.
[edit]
Family friendly to quiet labs
The Snape building has three identical levels, with more than enough space to hack. The current thinking is that the lecture venues will be on all three levels, with the smaller venues allocated as follows:
The ground floor level which opens out to a lawn is the family friendly area, and permitted to be festive.
The first floor is civil, but if people need to have discussions, meetings, or phone calls, this is allowed. Children are welcome but need to respect that this is a working environment.
The second floor, and highest level, is a quiet level. While the permitted noise is up to the occupants at any given time, if people want silence they have a right on this level to request it.
[edit]
Meeting space / boardrooms
There are small rooms in the Snape building, that can do for storage or for meetings. The main meeting rooms that may be suitable for meetings and press meetings are in the New Engineering Building and in the Chemical Engineering building. There are plenty, but these cannot be block-booked as the university staff need access to it, but we can use it if available. There are plenty and it should be easy to schedule these ad hoc.
[edit]
Accessibility
About distances between accomodations, hack labs and talk rooms: There are hacklabs downstairs from some of the living accommodations. The conference areas and talk rooms are about 3 buildings away and up the hill. There are no elavators in Fuller.
Walking as a tourist without companions is not recommended for safety reasons, and bicycling is considered similarly.
The UCT website has several resources for accessibility [4]
There is transport dedicated to improved accessibility [5], which is seen on campus often, and we can arrange it for delegates.