DebConf16/Bids/Cape Town/Venues/UCT Breakwater
From Wiki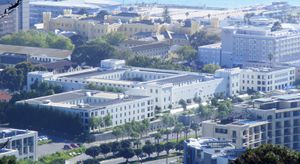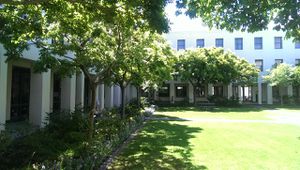 [edit]
Location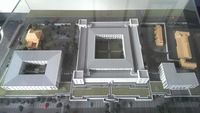 Breakwater Lodge is in the Victoria & Alfred Waterfront, in the City Bowl of Cape Town. The Waterfront is a popular tourist destination, with many shops, restaurants, bars, and hotels.
It was originally a prison for convicts who built the breakwater sheltering the harbour. It now houses the Business School for UCT, and is run by students as a hotel and conference venue.
[edit]
Conference Facilities
[edit]
How much does it cost to rent these facilities?
50 people for 5 days of DebCamp projected at R 16,750 (€1,180.71).
200 people for 5 days of DebConf projected at R 45,000 (€3,172.05), or 300 people for 5 days of DebConf projected at R 74,500 (€5,251.51).
[edit]
How far away are the locations from each other? (auditoriums, hacklabs, restaurant, sleeping quarters, info desk)
The conference rooms are all in one, central building, or the underground area connecting it to neighbouring buildings. There are hotel rooms in the top (second) floor of the central building, and in the two adjoining buildings.
The entire campus is located inside the V&A Waterfront, a popular tourist destination, with many shopping centres and restaurants. The nearest is probably 5 minutes walk away.
[edit]
What kind of places are available suitable for hacklabs, workshops, BoFs and talks?
The building is an ex-prison, that has been converted into a business school university campus. It has an attached hotel, run by the students, to gain business experience.
The ground floor is a square of full of small cell-sized meeting rooms, that probably wouldn't be useful to us, but could work as quiet hack spaces or hold tiny BoFs. Above is a more modern floor, with some larger, unstructured rooms that we could use for talks, BoFs and hacklabs.
There are many (~7) fish-bowl raked lecture theaters, that would probably be well suited to BoFs, but only seat 70 people. For talks, we'd probably need their largest space, the exhibition hall, and one of the other 120 seat rooms.
| Room | Seating | Price | Preview |
| --- | --- | --- | --- |
| Exhibition Hall (photo shows room split in two) | 220 | R 4,200 (€296) | |
| Board Room (1 & 2), Executive Room, Faculty Room | 120 | R 3,350.00 (€236) | |
| Lecture Theatre (multiple) | 70 | R 2,800 (€197) | |
| Syndicate Room (1 & 2) | 50 | R 2,300 (€162) | |
| Academic Room (1 & 2) | 8 | R 1,700 (€119) | |
| Library | 30 |  ? | |
| Time-Out Cafe | 100 | free? | |
| 2nd Floor Lounge (repeated on 4 corners of hotel) | 20 | free | |
[edit]
How many people fit in each of them?
The exhibition hall splits in 2, and, together, holds up to 220. The board rooms, faculty, and executive rooms hold 120. The lecture theateres hold 70. The syndicate room holds 50. And there are many smaller rooms for less than 10 people.
[edit]
How flexible can that be handled?
Unknown.
[edit]
Can smaller auditoriums be merged into a bigger one?
The only rooms that can be merged are the two halves of the exhibition hall.
[edit]
Are tables/chairs fixed, or can we arrange them to fit more people/give more room to the people that we need?
The lecture theatres have fixed seats, everything else is unstructured.
[edit]
Is the venue ready for handicapped people?
TODO: CHECK
The building has wheel chair accessible elevators and ramp access to all the buildings.
[edit]
Are there people with experience handling handicapped people, who checked that?
No.
[edit]
Are blueprints with exact distances available to us?
Haven't requested any, yet.
[edit]
What kind of audio equipment is already present at the auditoriums?
The Lecture theatres have sound systems. Otherwise, we haven't investigated, yet.
[edit]
Will the hacklabs be allowed to stay open 24x7?
Unknown
[edit]
What kind of security will be there?
The venues are presumably open after hours, but this hasn't been checked. Must be confirmed with the venue.
[edit]
Are there any limitations regarding the consumptions of food / alcohol?
No.
[edit]
How far is it to the nearest convenience stores / all-night restaurants?
5/10 minutes walk to several pubs and restaurants, open until 2am. There is a large shopping centre equally far.
How much are the meals per person per day?
Lunch and breaks quoted at R 345.00 (€24.32) per person per day. Dinner quoted at R 175.00 (€12.34) per person per day.
Is the eating place near the talks place / the hacklabs?
What kind of food would be served?

In what fashion? (service to the table, limited buffet, open buffet, etc.)

Would food for vegetarian / vegan / lactose-intolerant / gluten-sensitive / religious (of any denomination) people be available?

How much meals do we need to order to get those kind of "special" meals?
Will it cost extra to get those special meals?

In a two week period, how many more or less equal meals can we expect?
[edit]
Network connectivity
Is the area already wired with regular network infrastructure? (much preferrably: 100Mbps or 1Gbps switched)
How much does it cost and how difficult is it to get a big internet connection? (10/20 Mbits at least)
How much work does it imply to cover the area with wireless links?
If we use someone else's infrastructure, how easy / flexible can that be handled, regarding routing / firewall / ip-range / public access / other stuff?

Do we have restrictions on allowed ports?
Are we traffic-shaped? Or can we set a traffic shaper if we need so?

Would it be possible to set up the network before Debcamp? (a day or two, earlier would be nicer, in order to handle problems gracefully. Additional weeks for wireless.)
[edit]
Special rooms
Both for server and video rooms:
General conditions for the rooms

Size
Have they/do they need air conditioning?
What electrical load can they handle?
[edit]
Accommodation
[edit]
How much does it cost per person per night?
Current quote has prices ranging from R 1699 (€129) to R 2495 (€189) per person per night for single occupation of a double unit, half for shared. R 2650 (€201) for a triple unit and R 2805 (€213) for a quad unit with single occupation.
This rate is their normal hotel rate, a mid-market rate for the area. In fact, there are nearby hotels offering lower rates online, for 2015. Breakwater Lodge list a University-sponsored event rate, that we may be eligible for, at R 580 (€40) per person per night, shared occupation. We didn't have university approval yet, at the time we requested our quote.
[edit]
Is the place where people are going to sleep near the conference facilities?
The hotel and conference venue are in connected buildings.
[edit]
Is it able to handle a varying number from 200 to 500 people?
The hotel has 191 total rooms, capable of hosting 308 people with sharing. (12 rooms are triple units, and 18 rooms are quad units.)
[edit]
Is it able to handle non-native speaking people? (i.e. do the people at the sleeping facilities speak English?)
Yes, English is the primary shared language.
[edit]
Will there be a need of a "Debconf" info-desk, or would the local (hotel or such) people be able to handle that themselves?
We anticipate needing an info desk staffed by Debian volunteers.
[edit]
Will it be possible for couples to stay in their own rooms?
82 rooms are double beds, with en-suite bathrooms.
[edit]
How many room keys would be available?
No restrictions.
[edit]
Are there other hotels around?
There are numerous hotels within walking distance, ranging from inexpensive hostels to five-star luxury.
[edit]
Are there rooms ready for handicapped people? How many?
1 Double and 1 Twin room are listed as Universal Access.
[edit]
Timing
When (and why) would be the best time to host DebConf at your location?
Any time of year. We quoted for August.