DebConf16/Bids/Cape Town/Venues/TechnoPark
From Wiki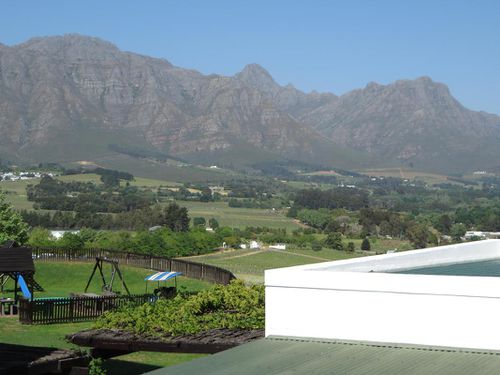 [edit]
Location
Technopark is situated in the rural area immediately adjacent to the town of Stellenbosch and is bordered by vineyards and the Stellenbosch Golf Course. It is situated on the crest of a hill, which affords the park magnificent views of surrounding vinyards.
It is accessible from the R44 regional route linking it directly to Stellenbosch, Somerset West, and the N2 to Cape Town. Technopark is therefore well connected to the main transportation routes of the district / metropolitan Cape Town, and thus to tertiary education institutions and market related industries.
[edit]
Conference Facilities
[edit]
How much does it cost to rent these facilities?
50 people for 5 days of DebCamp projected at R 35,000 (€2,467).
200 people for 5 days of DebConf projected at R 105,000 (€7,401), or 300 people for 5 days of DebConf projected at R 140,000 (€9,868)
[edit]
How far away are the locations from each other? (auditoriums, hacklabs, restaurant, sleeping quarters, info desk)
All very centrally located. The hotel building itself just houses the conference venues and restaurants. Rooms are spread out in blocks of 4 per building.
[edit]
What kind of places are available suitable for hacklabs, workshops, BoFs and talks?
| Room | Seating | Price | Preview |
| --- | --- | --- | --- |
| Magnifica (1, 2, & 3) | 120 (400 combined) | R 7,000 (€495) | |
| Omega | 200 | R 7,000 (€495) | |
| Cultivar | 100 | R 7,000 (€495) | |
| Clubhouse (with children's playroom) | 50 | free | |
| Open space (outside Magnifica) | 20 | free | |
| Open space (outside Omega) | 30 | free | |
[edit]
How flexibly can we be accommodated?
The facilities can accommodate collectively up to 800 delegates in 8 different conferencing venues. With a ceiling height of 4.5m, that adds significant height and volume to the conference rooms.
[edit]
Can smaller auditoriums be merged into a bigger one?
Yes. The Magnifica Suites can be booked as one venue catering for up to 250 Banquet style, 400 Cinema and 250 Schoolroom style seating. This room can also be divided and booked into 3 separate venues, accommodating up to 120 GUESTS each.
[edit]
Are tables/chairs fixed, or can we arrange them to fit more people/give more room to the people that we need?
Chairs can be re-arranged easily.
[edit]
Is the venue ready for handicapped people?
The Protea Hotel Stellenbosch does provide room facilities for disabled persons, but they need to be advised of any special requests upon making a reservation.
[edit]
Are there people with experience handling handicapped people, who checked that?
No such persons currently on the team, but the local team is very aware of this requirement.
[edit]
Are blueprints with exact distances available to us?
Not requested yet.
[edit]
What kind of audio equipment is already present at the auditoriums?
[edit]
Will the hacklabs be allowed to stay open 24x7?
[edit]
What kind of security will be there?
They have 24 hour security on site and around the hotel.
[edit]
Are there any limitations regarding the consumptions of food / alcohol?
Current legislation only allow them to serve alcoholic beverages until 2 am in the morning and for this they would need to book extra staff.
Their Restaurant and room service staff works until 23h30, and the kitchen close at 22h30. Should we wish to have staff available, they will charge extra, depending on requirements.
The quoted rates (in git) are normal 8 hour conference rates, should we wish to work later an additional venue hire will apply.
[edit]
How far is it to the nearest convenience stores / all-night restaurants?
There is a huge variety of wine farms, restaurants and shopping centres within approximately 5 km, but this venue would need close attention to transport options for attendees. Bicycles and/or a few rental cars may be a good option.
[edit]
Special (server) rooms
Breakfast is part of the room price. Lunch is part of the conference package.
For dinner, there is an in-house restaurant. R200 (€14.5) pppd for buffet, and a la carte R85-R145 (€6-10) pppd.
[edit]
Is the eating place near the talks place / the hacklabs
The restaurants are in between the talk rooms. All in very close proximity.
[edit]
Dietary requirements
The restaurants would be able to cater to everyone's dietary needs, given sufficient notice.
[edit]
Network connectivity
They have a 20mbps Fibre optic Internet Broadband Solution, but more technical, greater, faster, requirements might need significant effort, potentially.
[edit]
Is the area already wired with regular network infrastructure?
[edit]
How much does it cost and how difficult is it to get a big internet connection?
[edit]
How much work does it imply to cover the area with wireless links?
[edit]
Flexibility regarding routing / firewalls etc
[edit]
IP ranges
[edit]
Are we traffic-shaped?
[edit] Would it be possible to set up the network before Debcamp?
[edit]
Accommodation
It's a 180 bedroom hotel, 88 well-appointed deluxe rooms each offer a small kitchenette facility as well as a separate lounge. All rooms have individual air-conditioning, 18 dedicated satellite television channels, an electronic safe and tea/coffee making facilities.
Couples would be able to stay in their own rooms. Child care is available as a normal housekeeping service.
Prices are: R800 - R1000 (€ 58 - 94) pppd sharing or R1300 - R1900 (€96-135) pppd single. 2014 prices. We have not tried to negotiate lower rates yet.
For the 180 rooms the accommodation is within a few meters of the conference facilities. Other options are in walking distance, see below.
[edit]
Will there be a need of a "Debconf" info-desk
We anticipate needing an info desk staffed by Debian volunteers.
[edit]
Are there other hotels around?
The Kleine Zalze lodge (4 star), 20 mins walk away, has ~40 rooms. Prices range from R1100 (€83) per night for a double room to R1 7500 (€133) per night for a suite.
The De Zalze golf estate neighbouring it has 1, 2, 3, and 4 bedroom self-catering apartments. Rooms from R1150 (€87) single bedroom to R2950 (€224) four bedroom.
There are some hotels at an estate, a little further away, and more in Stellenbosch, 10 mins drive away.
[edit]
Are there rooms ready for handicapped people? How many?
The hotel claims to be wheelchair accessible. This should be requested during reservation.
[edit]
Timing
We would be looking at off-season to negotiate better prices.
We were considering something around 10 - 20 August 2016.
[edit]
Is there a provisional reservation in place
Not yet, as this is a back-up and reservations would require financial expenditure.