DebConf13/Logo
From Wiki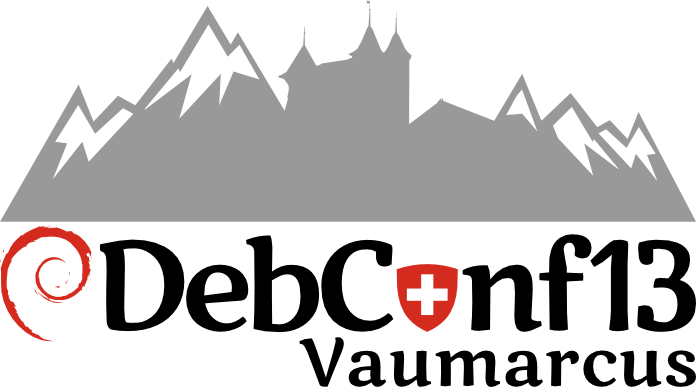 [edit]
License
Logo by Leandro Gómez. Licensed under a CC-BY-SA 3.0 Unported license. The font used is Marko One, available under the DFSG compatible SIL Open Font License, 1.1.
[edit]
Requirements
a DFSG-free licence
a logo that includes the Debian swirl, works in small and large scale and that is recognisable as the logo of the DebConf in Vaumarcus, Switzerland
typeface and layout grids / suggestions for communication material such as cover letters, documentation sheets, website, sponsor banners, stickers, T-Shirts, bags

This would ideally include 3 header hierarchies (h1,h2,h3), standard text for paragraphs, separator and quotation elements

a colour chart of what colours to use where (backgrounds, headers, logo, boxes, ...)
[edit]
Comments
easy to recognize, easy to print; better than the grey version, has more contrast
has everything -- mountains, snow, a castle, a shield and a cross, combined in a nice way
cleaner, more readable than the gray version, while still concise and getting all elements
3 colors, clear, expressing the concept of Switzrland, Vaumarcus and Debian
maybe with swirl and Swiss cross in the same red
I would align Vaumarcus on the right
maybe a version with the grey like the Alps one, black is a bit hard
with the same remark about black being a bit hard...and maybe not allowing black t-shirts
but I'd prefer a less "hard" version (greyish instead of black) and the castle in a slightly different tone to make it distinguishable. I like the right alignment of the word Vaumarcus.
this might be invertible to be printed on a black t-shirt
[edit]
Modified Logo
Based on feedback (see comments above).
confirm venue <DONE>
clarify the logo license <DONE>
import the original SVG into the DebConf13 repository, probably under a new logo/ directory <DONE>
answer the comments above <DONE>
finish the work on the visual identity as explained in the requirements above
[edit]
History
For the logo contest, please check the DebConf13/LogoIdeas page.