DebConf11/Bosnia/workinprogress
From Wiki
[edit]
DebConf 11 in Bosnia and Herzegovina v2.0

Bosnia and Herzegovina is the heart shaped land that lies in the heart of southeast Europe. It is here that eastern and western civilizations meet. Sometimes conflicted, but often more enriched and reinforced each other throughout country's long and fascinating history.

Some 15 years ago (17 to be exact), Bosnia and Herzegovina was about to break up/fall apart completely as a country, slayed by mass civil war and mayhem. Now 17 years later, different times have came for our country, it's about time we (especially from technological spectra) start doing something and properly build one of the most important grounds of this country. We are ready to take initiative and host DebConf, and as we like to believe it, this could mean a major technological boost for our country. This type of event would provide new generations the opportunity to grow up with open source and free software. Because we're a young country we had opportunity to get GNU Linux in our government/parliament and this type of event would show our leaders that choosing free software would put on the map of the world. Unfortunately because there wasn't enough initiative the first time government didn't adopt free software.

Now we are ready to change this. Having an event such as DebConf would mean a change for the better, and this type of change is what Bosnia and Herzegovina needs now. Let us move forward :)

Since Bosnia lies in middle of Balkans this DebConf could also be refered to as Balkans DebConf in area where there is around 44 million inhabitants. Also this region might be especially interesting to a lot of participants because of its geographical location, where after/or prior to DebConf they could enjoy rest of their stay in Balkans on Bosnian seaside or coasts of neighboring Crotia or Montenegro.
[edit]
Banja Luka
We made our final decision, and our city of choice is Banja Luka.
Banja Luka:
History and Trivia
Banja Luka is the university, financial, political and administrative center of Republika Srpska (one of the two entities in Bosnia and Herzegovina), and with about 270.000 inhabitants, the second largest city of Bosnia and Herzegovina.

The city is located in a valley, 164 meters above sea level, between the Dinaric Alps on the south and Panonic pool on the north. The city is in the Middle European time zone (GMT+1) and has a continental climate. The average temperature is about 10.7 °C. The warmest month of the year is July, with an average temperature of 21.3 °C (70.3 °F). The coldest month of the year is January, when temperatures average is near freezing at 0.8 °C (33.4 °F).

Because the city is surrounded with "green areas" (parks and alleys), it is often described as a "green city". Banja Luka was once a strong economic center with developed industrial structure, especially mechanical, electric, textile and food industries.

It is a modern European city, a recognizable center in its surroundings, found on civil rights, in which all the citizens have equal possibilities to actively participate in everyday life and where young people have an emphasized place.

Safe, human and urban life surroundings, with a rich cultural and sport contents, where entrepreneurship, knowledge, capability and results are recognized and valued.
How accessible is the place?
This should not be a problem, considering that almost every building has an entrance for disabled people, streets are also made specially accessible for them.
In one sentence: The City's infrastructure is adapted for handicap people.

How friendly is your country towards foreigners?:
The domestic population is very friendly and helpful.
Almost all the people here like tourists which we don't see very often unfortunately. People are generally friendly towards foreigners, and like to help in any way if they can. Bosnia is a known place for its hospitality.

Most of the locals speak some English.

Language: Do most people talk English? How hard is it for a foreigner to find their way around?
A large portion of the population speaks English. Especially the younger generations.
It shouldn't be hard to get around in Banja Luka.

Smoking: What are the local regulations about smoking?
Smoking in public places is prohibited.
[edit]
Arrival
Bosnia and Herzegovina is well connected to Croatia, Serbia and Montenegro.
It is easily accessible by air, bus, or train from any major European destination.
Which is the nearest airport?:
Banja Luka has an international airport. New airline (Sky Srpska http://en.wikipedia.org/wiki/Sky_Srpska) is being formed which we hope will extend its capabilities in future. The distance between the airport and the highway Gradiska is about 1 km; the City itself is about 23 km away from the airport.
Flight schedule:
From Banja Luka

| Destination | Mon | Tue | Wed | Thu | Fri | Sat | Sun | Flight |
| --- | --- | --- | --- | --- | --- | --- | --- | --- |
| Zurich | - | - | 8:45 | - | - | 8:45 | - | BON 304 |
| Beograd | 6:20 | - | - | 6:20 | - | 6:20 | - | JU 107 |
To Banja Luka

| Destination | Mon | Tue | Wed | Thu | Fri | Sat | Sun | Flight |
| --- | --- | --- | --- | --- | --- | --- | --- | --- |
| Zurich | - | - | 13:00 | - | - | 13:00 | - | BON 305 |
| Beograd | - | - | 22:10 | - | 22:10 | - | 22:10 | JU 106 |

http://www.banjaluka-airport.com/index.htm

The closest airports are in: Zagreb (2 hrs with a car), Sarajevo (3 hrs with a car), Belgrade (5 hrs with a car). If traveling with a Bus, add about 1-2 hrs extra.

Here is the list of airports closest to the Venue:

Bosnia and Herzegovina:
Sarajevo (http://www.sia.ba)
Tuzla (http://www.tuzla-airport.ba)
Banja Luka (http://www.banjaluka-airport.com)
Mostar (http://www.mostar-airport.ba)

Croatia:
Zagreb (http://www.zagreb-airport.hr)
Dubrovnik (http://www.airport-dubrovnik.hr)
Split (http://www.split-airport.hr)
Osijek (http://www.osijek-airport.hr)
Pula (http://www.airport-pula.com)
Zadar (http://www.zadar-airport.hr)

Serbia:
Belgrade (http://www.airport-belgrade.co.yu)
Nis (http://www.airportnis.rs)
Vrsac (http://www.jat.com)

Montenegro:
Podgorica (http://www.montenegroairports.com)
Are there any import regulations, which might affect DebConf? (e.g. a limit to number of notebooks / DVDs / other media you can bring in; hard regulations for money transfers; etc.)
None.
With the right papers, entering Bosnia and Herzegovina is easy (see below). Procedures at both the borders and the airport are standardized and uncomplicated.
Bosnia and Herzegovina can only be entered with a valid passport, while for some country all you need is ID. EU, American, Australian, Canadian and most of the Latin American citizens do not require a visa to enter the country for stays up to 90 days. Most other countries don't need Visas either, but for those which do, getting one is possible through the Bosnian embassies/representations in your (or neighboring) countries. Fees for visas issued by diplomatic/consular offices:
Single entry-exit visas and transit visas 31.00 EUR
Multiple entry-exit visas for periods up to 90 days 57.00 EUR
Multiple entry-exit visa for periods over 90 days 72.00 EUR
Further visa information can be retrieved at the Ministry for Foreign Affairs website: (Just select the state (country) for which you need visa information for in the upper right corner.)
http://www.mfa.gov.ba/HTML/Ambasade/Preporuke_eng/Vize_eng.html
[edit]
Conference Facilities
Banja Luka has "handful" of possible venue options. However best two options; especially since we got full support by government of Republika Srpska are the main Government building and Bans Palace.

The main Government building:
Withal is also the administrative center of government of Republika Srpska built in 2007. Building is 17 floors high and its overall area stretches over 49.140 square meters. Building has many conference facilities, including couple of conference halls where speeches could be held, restaurant, and also plenty of room for hacklabs of various sizes.
Video presentation of the building: http://foolcontrol.org/dc11/zgrada%20vlade%20republike%20srpske.ogv

Bans Palace: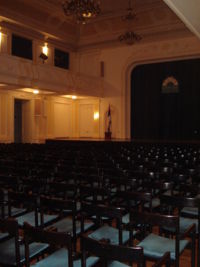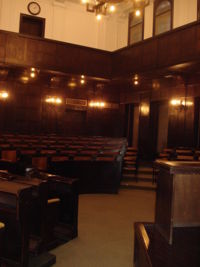 JKU "Banski Dvor - Center of Culture" - built in the 1930s as a spot of residence for the Bans of the Vrbas Banovina. It is a representative building in the very center of the city. The National Assembly is inside, along with a concert hall, gallery, state television, and a restaurant. Most of the main cultural and political leadership nowadays takes place inside of the building.
In past building used to serve as governmental building where officials had offices now that space is being used for various art exhibitions, this area would be great for one big hacklab.

Put simple, these two building can fulfill everything needed for DebConf except places to sleep. Even thought main government building has couple of presidential apartments which can accommodation selected guests. Besides that, all other attendees (including sponsored ones) would be accommodated in A class hotels that are are all nearby by each of the selected venues.

Local transport options:
Taxi costs 2KM (~1 €) per km.
Bus costs 1.40KM (~0.70€) in one direction.
Attendees accreditation/id will have free transpiration tag on them during conference.
How much are the meals per person per day?
Around =10КМ (~5€).

Is the eating place near the talks place / the hacklabs?
This can be organized, without some major effort.
Also there's a lot of nice places to eat in and around the City.

What kind of food would be served? && Would food for vegetarian / vegan / lactose-intolerant / gluten-sensitive / religious (of any denomination) people be available?
Various kinds of food is available as we offer all international cuisines. We ourselves have different cultures here, and eat different kinds of food everyday.
Special kinds of food (vegetarian / vegan / lactose-intolerant / gluten-sensitive / religious (of any denomination)) are at the same prices as regular food.
Remember to try burek, cevapi, hurmasice and rakija (http://en.wikipedia.org/wiki/Rakia) ;)

In a two week period, how many more or less equal meals can we expect?
We'll make sure there's different food on the menu every single day so you try most of it.
[edit]
Network connectivity and technicalities
Internet Provider
We are aiming at M:Tel (http://www.mtel.ba/). They can give us the best service, and we should be able to get them to sponsor us or at least give us a discount.

Is the area already wired with regular network infrastructure? (much preferrably: 100Mbps or 1Gbps switched):
M:tel offers 34 Mb/s, 155 Mb/s links.
The whole City is HIGHLY wired.

How much does it cost and how difficult is it to get a big internet connection? (10/20 Mbits at least):
CEO of m:tel himself has told us that getting this kind of connection shouldn't be a problem at all, and that they are more then willing to enable us with the same.

How much work does it imply to cover the area with wireless links?
All depending on the location, it shouldn't be nothing that local team can't cover.
Also, it should be noted that most of the coffee shops/restaurants offer WLAN.

If we use someone else's infrastructure, how easy / flexible can that be handled, regarding routing / firewall / ip-range / public access / other stuff?
Again, all depending on the location. Very easy!

Would it be possible to set up the network before Debcamp? (a day or two, earlier would be nicer, in order to handle problems gracefully. Additional weeks for wireless.)
Yes.
How easy/convenient is it to get all the strange and regular kinds of hardware to the proposed venue?:
Incredibly easy. Shops like Biscomm, MediaMarket, ComTrade shop, Tehnomarket, Alf-Om, HG Spot (someone should put links to websites of the shops here) and others are all located in the center of the City. There are some at the large Malls like Ekvator or Mercator.

Concerning hardware/ Electronic/electricity acquisition, the local stores can cover all the needs of DebConf.
There's a lot of Supermarkets all over the place (openning times: 7:30 - 21:00/21:30).
[edit]
Special rooms
Mentioned above.
[edit]
Accommodation
Hotel Bosnia, Hotel Vidovic...Since all kind of accommodation facilities are in close distance from selected venues.
And it should be possible to reserve the whole place and enough rooms upfront without too much problems.
Most likely we won't have problems reserving the whole place...
[edit]
Fun and Free time
What activities can be done during the free time?
Banja Luka is known for having a lot of amusement possibilities. Clubs, free activities, we could also organize a tour, around some interesting touristic places in the surroundings. These are just some suggestions and/or organizers we have talked to. Clubs, theaters, restaurants, nearby river with rafting and other capabilities, we could also ...

For daytrip rafting would be great for attendees to relax and enjoy themselves. Interesting information that Banja Luka was host to World Rafting Championship in 2009 (http://www.2009wrc.com/)

Initial idea is that each attendee has access to free bus transportation within the city and free access to selected facilities, so they can easily go from one place to another. One such interesting location in those summer days would be Aquapark with great relaxation and pool facilities and as well a very nice Rouge Bar and restaurant.

Aquaparks Rougue Bar:
Staklenac Bar:
This is another interesting location which we could have reserved. Staklenac Bar is located in center of a city where you can seat outside or inside, where you can enjoy yourself in snack/drink/coffee in a bar, while upstairs you can even have mini talks, or mini hacklab.
Movie theater "Palas":
Another place where you can relax would be "Palas" wheter you would do it with latest (Kusturica) movie or play some pool or have a drink is up to you.
[edit]
Full Government Support
We have full government support, while city of Banja Luka and goverment of Republika Srpska offered us with both full moral and financial support for this event to take place. City and whole entity officials are highly interested into switching their whole government/city infrastructure to Debian. They are also quite interested in idea of having their own Debian based distribution for use in government. Besides governmental support, we have talked to many leading IT companies in country and they have expressed great interest in sponsoring this event.
[edit]
Timing
Around end of July beginning of August?
[edit]
History and Trivia
[edit]
Communication
Supported languages: English, Bosnian, Croatian, Serbian
IRC: #debconf11-bosnia on irc.debian.org aka OFTC
Mailing list: debconf11-bosnia@lists.debconf.net