DebConf10/CheeseWineBoF
From Wiki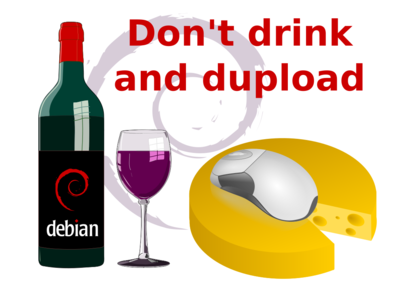 August 2nd, 21:00
Setup scheduled to begin 30-60 minutes before the party time. People who brought cheese are welcomed to join in helping in the identification of items.
[edit]
Where?
Havemeyer 7th Floor Lounge. Havemeyer is the Dept of Chemistry building. map with havemeyer. Directions from Mudd and Carman. There will be signs and there are no lions, nor kangaroos.
Cheese is Good For You. Wine also helps.
Cheese and Wine parties are now a tradition for Debconf. The event is very simple: bring good stuff from your country, preferrable cheese, wine and|or any other good stuff that can be drunk or eaten. Even if you don't bring anything, feel free to participate: our priorities are our users and free cheese.
For Debconf10, a "my beer is better than yours" side party may happen along with the Cheese and Wine party, as a followup to recent threads that suggested that all US beers taste like Budweiser.
[edit]
Questions?
Write to Christian Perrier <bubulle@debian.org>
[edit]
What will you bring?
Please add your entry in alphabetical order. Please choose one, two, or exceptionnally three, representative cheese from your place (list of cheeses. It is recommended to target pieces that can be cut in about 10/20 slices/portions/whatever each.
The party place has a big fridge. Participants are suggested to bring their stuff there before the party. Christian will organize "trips" to Havemeyer building (the location is locked and he has the keys).
Next "cheese trip": 5:30pm Friday 30th
(countries list not exhaustive: this is a copy/paste from last year's C&W)
Argentina
Australia
Austria

gregoa

a piece of Kaiser Max and a piece of Tiroler Bergkäse (0.5 kg together)

Bolivia
Bosnia and Herzegovian. As DebConf 11 will be hosted in Banja Luka, there's a proposal to have a special Bosnia and Herzegovina booth at NYC Cheese&Wine party. Please "register" below:
Brazil

Rogério Brito
Ian Lawrence

Bulgaria
Czechia:
France

Christian and Jean-Baptiste Perrier (See also "Italy")

Liquids:
Solids (aka cheese)

Trappe d'Échourgnac
U Pecurinu from Corsica
St-Nectaire (goat variety)
4 small Rocamadour goat cheese
Pyramidal goat cheese
Camembert affiné au Calvados
Brie de Meaux
Reblochon
Munster au cumin

Grégory Colpart
Moray Allan

Morbier
Pont l'Evêque
Reblochon

Ralf Treinen

Roquefort (450 grammes)
Tomme de Savoie (450 grammes)
Cantal (230 grammes)
Salers (250 grammes)
small bottle of Poire Williams (eau de vie)

Germany

urbec

3 litre non alcolholic juice
half kilo random cheese

lucia/h01ger
twerner

2 bottles of Californian red wine + cookies

Italy

Stefano Zacchiroli (tentative list)
Christian Perrier (yes!)

2008 artisanal red wine for Sardinia
2008 artisanal white

Japan

Hideki Yamane
Nobuhiro Iwamatsu

Kazakhstan

Sylvestre Ledru

String Cheese
Unknown (hard chesse which can be found also in Mongolia)

Mexico

vicm3

A bottle of Mezcal Alipús
A bottle of Red Wine

Netherlands

Frank B. Brokken / Esther Sulkers

Cheeses:

Boerenkruidenkaas (Farmers Herbs Cheese): made from non-pasteurized cow-milk, contains basil, garlic, lactic starter and rennet
Oude Friese Nagelkaas (Old Frisian Clovecheese): a solid, hard and dry cheese. It takes about half a year to ripen. Two variants contain 20% and 40% fat, respectively.
Graskaas (Grass cheese): Cheese from the Western part of the Netherlands, the Beemster polder. It is only available during the summer months and it is produced from the very creamy milk obtained from Beemster cows during the last two weeks of March. Each year only about 2000 cheeses are produced.

Liquid:

The Netherlands is not known for its wine production. However, a very traditional drink from the Netherlands is Jonge (young) and Oude (old) Jenever [1], a sample of which (Bokma Jenever) will be available during this event. Why Bokma's Jenever? Frank's presentation will provide you with some hints.

Puerto Rico
Romania
Spain

Jose Antonio Quevedo

Sheep cheese (old) from Castilla la Mancha (880 g)

Taiwan

Andrew Lee

A various of Taiwanese Tea (茶)

Tenlu Tea (天廬茶)
Unnamed teas bought directly from farmer of Hualien County

Traditional Rice liquor (老米酒)

Venezuela
El Salvador

Melvyn Gómez

"Queso con chile" (made from cow's milk, contains ground spicy peppers)

USA

Aaron Ucko

"Spring Cheese" (made from cow's milk, with hints of spring garlic and fast-growing spring grasses; 280 g)

John Goerzen

Grace Hill Winery Seyval - rural Kansas

Patty Langasek (and Steve Langasek, I suppose)

Tillamook Extra Sharp White Cheddar Cheese
Oregonzola
Willamette Valley Vineyards Riesling

Tony Mancill

Rex Hill Pinot Noir (Willamette Valley, Oregon)
Del Rio Vineyards Syrah (Rogue Valley, Oregon)

Eric Evans
Michael Shuler

Mishka's "South Austin" Queso

Switzerland

Luca Capello (no cheese for me, I do not like it, sorry...)

moitié-moitié, a typical drink in Genève, a mixture from two alcohols produced in Valais and distilled from Williams pears (Williamine and brandy)
Calvinus beer, another typical drink in Genève
[edit]
Accessories
This year, thing will be arranged with the orga team. No need to bring anything (except one's favourite cheese cutting knife and corkscrew).
[edit]
Orga Team
[edit]
Cheese master
bubulle: Christian Perrier
[edit]
Volunteers
We need about 10 people to help preparing the place before the party, between 7pm and 9pm. Please register yourself below nickname and real world name suggested):
Meet point at: Hacklab front door at 7pm.
moray: Moray Allan
urbec
Andrew Lee
Hector Oron
Patty Langasek
Ralf Treinen
Sylvestre Ledru
Habanero: Jean-Baptiste Perrier
marcot
Matt Zimmerman
Add yourself here
[edit]
US Custom Regulations
For rules concerning cheese see [2], in particular pages 3-4-12 and following
In short: you can bring barely everything you want and customs won't be a problem.
---
Título do link