DebConf7/Sarajevo
From Wiki
[edit]
Bosnia and Herzegovina Local Team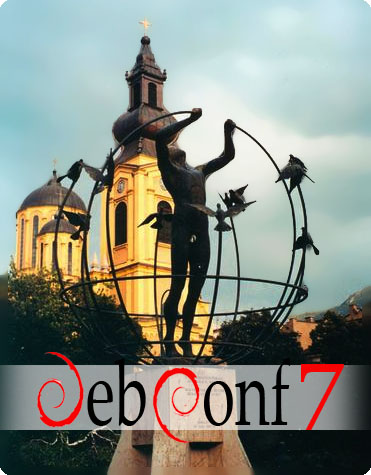 (^ Liberation Square, Sarajevo, Bosnia and Herzegovina)
Linux Users Group of Bosnia and Herzegovina is a legal entity behind matters regarding DebConf7 in Bosnia and Herzegovina.
Local team consists of the following members:
| | | |
| --- | --- | --- |
| Name | Email | Additional information |
| Safir Secerovic | MIJ | Local team leader |
| Alen Sarkinovic | MIJ | LUG Chairman |
| Emir Beganovic | MIJ | |
| Adi Heco | MIJ | |
| Alma Aganovic | MIJ | |
| Amar Prasovic | MIJ | |
| Vedran Ljubovic | MIJ | |
| Ernedin Zajko | MIJ | |
| Amila Akagic | MIJ | |
| Ahmet Mulalic | MIJ | |
| Adnan Hodzic | MIJ | |
| Mirza Nakicevic | MIJ | |
| Velimir Iveljic | MIJ | |
| Adis Nezirovic | MIJ | |
| Kemal Sanjta | MIJ | |
| Nedim Hadzimahmutovic | MIJ | |
| Elvir Kuric | MIJ | |
| Zlatan Fazlic | MIJ | |
| Dzenita Numic | MIJ | |
| Sanel Zukan | MIJ | |
| Armin Besirovic | MIJ | webmaster |
| Srecko Toroman | MIJ | |
| Igor Malinovic | MIJ | |
| Vladimir Grubor | MIJ | |
| Senad Uka | MIJ | |
| Nedim Eminagic | MIJ | |
| Haris Sehic | MIJ | |
| Bakir Helic | MIJ | |

Croatian support team:

Serbian support team:
[edit]
Important documents and references
[edit]
Basic information about Sarajevo

Host city: http://en.wikipedia.org/wiki/Sarajevo Sarajevo.
Sarajevo is the capital of Bosnia and Herzegovina. There's much to do and see in the city famous for it's cultural diversity, ranging from symbols of our incredibly rich history to stunning landscapes or numerous pubs/restaurants/coffe shops. The city that hosted the 1984 Winter Olympic Games is the home of the Sarajevo Film Festival, the largest one in this part of Europe. Expect a hot summer here - 35°C (95°F) is not uncommon during the day, but it pays off in the evening when its hard to stay indoors.
Population: around 450.000.
[edit]
Travel Information
http://start.linux.org.ba/wiki/images/8/8f/Debconf3.jpg
Which is the nearest airport?
Sarajevo International Airport (SJJ). It is the main airport in Bosnia and Herzegovina. It is located on the outskirts of Sarajevo. During the Siege of Sarajevo (1992-1995), the airport served as a vital supply line for the city, receiving food and humaniarian aid brought in by United Nations aircraft. Since the end of the siege the airport has welcomed a thriving commercial flight business.
So far, we have two major european hubs connecting Sarajevo directly with the rest of the world, those are Frankfurt (with BH Airlines) and Budapest (with Malev Hungarian Airlines). Malev offers easy connectivity from New York and Toronto, as well as from China and Japan at an affordable ticket prices. Also, there are low bugdet airlines for european Debian Developers and other attendees to Split from all over Europe and then, one could take the bus to Sarajevo, which is only 5 hours ride. This could reduce travel costs significantly.

Here is a list of regular flights to SJJ:
Flight from to Sarajevo | Return ticket? | Additional info
Frankfurt | Yes |
Munich | Yes | Persons under 18. have a 33% discount
Milan | Yes |
Zurich | Yes |
Prague | Yes |
Vienna | Yes |
Istanbul | Yes |
Ljubljana | Yes |
Sweden, Denmark | Yes |
Cheap train connections include the entire European railways, trains coming from E.U. to Ljubljana (Slovenia) from Austria then to Zagreb and finaly to Sarajevo. Also from Budapest (Hungary) to Sarajevo directly every day. One cheap solution from U.K. is to take a flight with, say, EasyJet to Budapest and then by train to Sarajevo, and that would be around 200 EUR return ticket (plane+train) solution. Of course, for those who want and healty enough to travel. From Greece there is also a train option from Thesaloniki to Belgrade and then to Sarajevo, quite cheap.
* Are there any cheap airlines flying near the chosen city?
The low fare airlines flying directly to Sarajevo include Malev, Lufthansa, Austrian Airlines, Alitalia...
There are also budget lines to near cities: EasyJet to Ljubljana (SLO) and Rijeka and Split (CRO). Rijeka and Split are 5 hours bus ride from Sarajevo.
Wizzair flies to Zagreb and Split (both 5 hours away from Sarajevo by bus, from Zagreb, it is possible to take train as well.
* How long does the trip from the airport to the venue take?
You can get to the airport for within 10 minutes by taxi. Also a regular bus line will be established very soon, by the end of this year, so attendees will be able to use public transport to the venue. There is also a shuttle option from the Hotel "Terme" to the SJJ airport.
Visas: Which/how many countries' citizens require getting a visa? How hard (bureaucratic, probable) is it to get it?
Citizens of most European coutries are not required visas to enter Bosnia for short term stays. List of countries that are not required an entry visa for Bosnia and Herzegovina is available here. BiH entry visa shall be issued by diplomatic/consular offices of Bosnia and Herzegovina abroad. Request for issuance of visa in PDF format. For the purposes of private visit, guarantee letter/invitation by a citizen of Bosnia and Herzegovina, certified by the competent body, shall be submitted together with the visa application. For the purposes of business travel, business invitation by the partner from Bosnia and Herzegovina, certified by the competent economy chamber, shall be submitted together with the visa application. One photograph shall be submitted together with the visa application. Fees for visa issuance by diplomatic/consular offices: single entry-exit visa or transit visa 31,00 €.
For countries which do not have Bosnian diplomatic missions?
For citizens of countries which do not have bosnian diplomatic missions we could file an official request in the name of the Bosnian LUG and ask for preapproval of their visas and issuance of their visa at the entry point/Sarajevo intl. airport. So I guess this solves our problem, no body who is preapproved would be rejected an Bosnian entry visa at the Sarajevo airport. And also there is no reason why someone would be rejected.
We would of course need to know basic personal data required for visa issuance which would be detailed to us by our foreign ministy upon approval of our request that our foreign ministry approves us entry point visa issuance for DebConf7 conference participants.
Are there any import regulations, which might affect DebConf? (e.g. a limit to number of notebooks / DVDs / other media you can bring in; hard regulations for money transfers; etc.)
No, maybe customs regulations (limited to the specific weight).
[edit]
Accomodation Information
About the Conference building
Hotel terme Ilidža - Hotel "Terme" is located in a wonderful natural ambience near the national park - Vrelo Bosne (Spring of Bosnia). To Vrelo Bosne you can get through the 3 km long alley of plan tree and wild chestnut. The Hotel is 15 minutes away by car, 15-20 min away by tram from center of Sarajevo (by tram, daily ticket costs 2,5 EUR, 10 days ticket costs 15,00 EUR) and 5 minutes far from the International Airport Sarajevo. The Hotel is ideal for any kind of group staying, turists, bussinesmen, seminars, symposiums and other manifestations. It has 390 beds in single/double/triple rooms, rooms with twins bed and appartments, all designed in a very modern and comfortable style. Hotel posseses a congress-hall, with modern equipment - 300 seats, festive living room (300 seats), restaurant - 390 seats (a la cart), two aperitif bars and own parking place with security. Health service that belongs to Hotel Terme in Ilidza is one of the oldest spa in BiH. Completely renovated by modern equipment Spa Ilidza began with its function and it is ready to accomodate and to take care with its various kind of services about great number of customers. Water is enriched with minerals and its temperature is 57°C. It is used for bath in bathtubs, pools, hydroterapy and it can be used for drinking , Spa-bathing, as inhaler, and for under-water shower and massage. (So hacklabs, conference hall, place for BOFs and talks would be under one roof). After long and destructive war our objects were generally rebuilded and renewed. Modern equipment was built in for physical medicine, rehabilitaion and recreation. In the cellar are medical applications and also the pools and the gym.
Picture of a Conference Center can be found here (See also: Pictures of the SJJ venue)
Is the venue ready for handicapped people? Note: Keep in mind that it's not only motion-handicapped - ss the area safe for people with any kind of handicap? Ellaborate as much as possible. What people is it not good for?
(we can not consider ALL kinds of handicapted people. please make reasonable assumptions to light to medium level ## motion handicaps - Andreas)
Venue is designed for handicapped people. It has two elevators fit for small and medium size wheelchairs. The hotel is adequate for people with any kind of handicap. Instead of steps there are flat stairs.
Access to all areas with ramps and/or elevators? (no, carrying somebody over some steps is not an acceptable option)
The building where the rooms are has an elevator, so there should be no problems with handicapped people.
Are there people with experience handling handicapped people, who checked that?
Yes. The members of local orga team, Vedran Ljubovic and Amar Prasovic checked this information with the hotel personel.
How far away are the spaces from each other? (auditoriums, hacklabs,restaurant, rooms)
Auditorium, hacklabs, restaurant, rooms, place for BOFs and other are all in the same building.
What kind of places are available suitable for hacklabs,workshops, BoFs and talks?
Hotel basement has a lot of spearated rooms that could be used, also on each floor there are small lounges. In total, we could have one huge conference room and 5 smaller conference rooms. The later ones can be used for very comfortable hacklabs.
How many people fit in each of them?
It depends on the type of the room. The hotel offers: one bed rooms, two bed rooms, three bed rooms, appartments and special double bed rooms for couples.
How flexible can that be handled?
It is able to put in chairs and tables in each of the halls. For more people we can just move the tables out.
Can smaller auditoriums be merged into a bigger one?
(is this a new requirement? -Andreas)
Are tables/chairs fixed, or can we arrange them to fit more people/give more room to the people that we need?
Tables/chairs are not fixed and can be moved to get more space for people.
Will the hacklabs be allowed to stay open 24x7? What time schedule do they offer?
Yes, if someone would always be there and take care about the equipment (people can do in shifts).
What kind of security will be there?
Hotel "Terme" has enough guards, parking is well secured and equipment can be secured if needed.
How much does it cost to rent these facilities?
Renting all these halls costs almost nothing (we can arrange final prices). One night for a room with three or two beds cost 23.5 EUR per person w/o breakfast, included first class food 2 meals, vegetarian option included, rooms/halls for conference talks, hacklabs and bof sessions and such...
Are there any limitations regarding the consumptions of food / alcohol?
Mostly not. There are no law limitations for consuming food or alcohol for adults but by law children under 18 years of age aren't allowed consume alcohol.
How far is it to the nearest convenience stores / all-night restaurants?
Not more than 2 km.
Is the eating place near the talks place / the hacklabs? (Please elaborate on where it is, and the distances involved)
It is right by the talks place.
Both for server and video rooms:
General conditions for the rooms
Nice rooms, not too hot. Walls are great and can be well used for presentations (using projector).
Size
Don't know the exact size, but in my opinion it surely can handle 300 people.
Have they/do they need air conditioning?
No, they don't need air conditioning.
* What electrical load can they handle?
not known, yet
Is the place where people are going to sleep near the conference facilities?
Distance between all the places (rooms, conference halls, hacklabs) is not more than 2 minutes of walk (all the places are in one building).
There's how many rooms ready for handicapped people? (This means that the bathrooms need to be big enough and other facilities - Otavio)
There are rooms specially designed for people with wheelchairs, with very low walls on bathtubs and easly accessible bathroom.
Is it able to handle a varying number from 20 to 400 of people? (changed from 200 to 20 - Andreas)
Yes, hotel place can handle a number of people from 20 to 400.
Will it be possible for couples to stay together?
Yes, there are rooms with one big double bed, suitable for couples.
Is it able to handle non-native (English) speaking people?
Yes, most of people speak English, and the hotel staff speaks English fluently with possibility that some of them speak German, French and Russian.
How many room keys would be available?
Number of all beds available in the hotel Terme is 390.
How much does it cost per person per night?
See the sections above.
Are there other hotels around?
Yes, there are two hotels "Austria" and "Hungaria". The hotels are 2-5 minutes walking distance from hotel "Terme" and are owned by the same company. This means that no additional negotiations should be required if we are to use some extra rooms (if we host more than 400 people).
Will there be a need of a "Debconf" info-desk, or would the local people be able to handle that themselves? (Info desk implies: handling bags (200-400), nametags (printing and giving them out),giving general information (Daytrip, Formal Dinner, etc), handling food-tickets, handle room-allocation, maybe handle the keys.) (See DebConfInfoDesk)
Yes, but it would be better for volunteers to handle all of that. Hotel offered us their reception which could be used as a info desk. Also, next to the reception there is an area that can easly be converted to DebConf info-bar.
Also the Hotel offered us a minibus capable of handling 10 people in wheelchairs as well as others, so the need for the TAXI service is off, but if you'd like to check out TAXI prices, they're in the Expense Summary below.
[edit]
Cultural life
Sarajevo's culture is represented in various ways. Numerous cultural festivals occur every year, such as the Bašćaršija Nights, Sarajevo Winter Festival, and the Sarajevo Jazz Festival. Numerous theatres are present in Sarajevo as well, such as the National Theatre of Bosnia and Herzegovina. The first ever Bosnian opera was held in Sarajevo in 2003. Historically, Sarajevo was home to several famous Bosnian poets and thinkers during the times of the Ottoman Empire. Nobel Prize winners Ivo Andrić and Vladimir Prelog are from the city, as was academy award winning director Danis Tanović.
Sarajevo is also home to the Sarajevo Haggadah, one of the oldest surviving such texts, originating from the 14th century and brought by Jews fleeing the Spanish inquisition. As of late, modern art has flourished in the city as well.
[edit]
Festivals
Sarajevo Film Festival (web site) is an international movie festival. The movie presentation offer a variety of content, ranging from children programs to the end artistical expressions from authors all over the globe.
International Jazz Fest (web site) has already aquired a recognized name. This yearly event presents to you the best of jazz, including names such as Charlie Hayden and John Scofield. The event is usually held during the first week of November.
MESS - International Theater Festival (web site)
[edit]
Locations of Interest
Here are some important touristic places in Sarajevo:
Alley in Ilidza - An attractive promenade from the spa – tourist complex Ilidza to Vrelo Bosne, planted with trees of plane-trees and chestnuts in length of 3.5 kilometres, represents the most beautiful alley in B&H. The alley consists of 726 trees of maple-leaved plane-trees, planted in 2 rows in 1892, and dozens of wild chestnut trees planted in 1888. This green "tunnel" has always represented a genuine tourist attraction and a peculiar monument of Nature.
Butmir – Neolithic settlement - The first human settlements in this area derive from the Neolithic period. Around 2400-2000 B.C.E., in the Butmir settlements, located on the banks of the river Željeznica, a Neolithic settlement was developing, and archaeologists discovered it in 1893-1896. The greatest value from that period represents the ceramics, which through its originality of forms and combination of various ornaments, with its simplicity and purity, assorts the Bumir culture in the line with the most important manifestations and attainments of that age.
Cemetery at Alifakovac - Bosnian, Bogomil, Ortodox and Catholic necropolis and Islamic cemeteries are scattered on every step of the land. Bosnian cemeteries are beautiful, mysterious, and exalted. This one at the Alifakovac glade, above the same-named settlement in Sarajevo, is one of the most beautiful examples of the local memorial architecture and skills of the stone-mason masters.
The Goat Bridge - The first among innumerous bridges on the road from Sarajevo to Constantinople, the last between Constantinople and Sarajevo. For centuries, the Bosnians and the Bosnian valuables have crossed this masterly constructed stone arch on their way to the center of the mighty Ottoman Empire and the Eastern world, but over it came into Sarajevo other, new assets.
Sebilj Fountain in Baščaršija - "Sebilj" or "Sebil" is an Arabic word meaning "road", but in this context the term defines a very old charity institution, an unusually designed fountain at a city square, where an authorized man would scoop the water from the trough with a saucer and give it to the thirsty free of charge. The Sebilj Fountain in Baščaršija is the only structure of such kind in Sarajevo, constructed in 1891 and most probably designed by Josip Vancaš. The Sebilj Fountain that was built in 1754 by the Bosnian vizier Mehmed-Paša Kukavica located a little further down the street than the existing one was burned down in a fire in 1852.
Monument to Gavrilo Princip - In 1986, you could find the footsteps of Gavrilo Princip, where he stood in 1914 as he assassinated the Archduke Franz Ferdinand, heir to the throne of the Austro-Hungarian Empire. Princip was a 19 year old Bosnian Serb who believed that Bosnia and Herzergovina should be free of the Austro-Hungarian rule. Even in 1986, it was debatable whether Princip was a hero or a terrorist. As a result of the war in 1992-95, all tributes to Princip were removed - the bridge and street named after him were renamed. The cement block which marked his footsteps and monument to Princip have also been removed.
Miljacka river - The Miljacka River winds through the center of Sarajevo. The heir to the Austro-Hungarian empire, Archduke Franz Ferdinand, was assassinated by Gavrilo Princip in 1914 just after the Archduke and his retinue crossed the bridge in this picture. The assassination was one of the events that led to the start of World War I.
The Bosnian Stecaks - These fascinating legacies are one of the few remaining artifacts of the Bosnian people prior to the Ottoman occupation. These are gravestone designs, or Stecaks, and are prominent Bosnian art. It is believed that the people who created these markers were Bosnians who practiced a derivative of Roman Catholicism, quite possibly Bogomils-who were considered heretics by the Roman Church. In his book 'Bosnia: A Short History', Noel Malcolm uses the Bosnian Bogomils & the Stecaks as one means of clarifying the competing myths of the racial, religious and political history put forth by each side in the conflict.
Vjecna vatra - This building is right off of Bascarsija. It's called Vjecna Vatra (Eternal Flame) because there is a small ring of fire in front of the building that burns everyday all day. It's a really beautiful site at night.
Vijecnica - The National Library formerly served as a government building for the Austro-Hungarian empire, then the Town Hall for Sarajevo, and now the National Library. As the National Library, it had housed many rare and valuable books and documents. In 1992, during the war, Vejecnica was deliberately burned. The interior, exterior and contents were extensively damaged. Efforts to restore the library are ongoing today, but the process is slow and many of the books and records can never be replaced.
National Museum - Since the very beginning of its work, the National Museum has developed as a complex cultural and scientific institution nourishing a number of scientific and scholarly disciplines, i.e. history, geography, archeology (prehistoric, ancient and medieval), ethnology, history of art and natural history (biology, geology and mineralogy), partly language, literature, statistics and bibliography. Studies of these disciplines have with time taken the shape of the three present departments, namely the Department of Archeology, Department of Ethnology and Department of Natural History.
Gazi Husrev-bey's mosque - Gazi Husrev-bey's Mosque is one of the most important islamic structure in Bosnia and Hercegovina. This place of whorship was built 1531. with the large Harem and the accompanying buildings was and stayed a focal point of the old square.
[edit]
Food and drinks
What kind of food would be served?
The hotel is a four star hotel, meaning that there would be a wide selection of food, including the traditional Bosnian cuisine. The hotel has a selection of vegetarian and vegan.
In what fashion? (service to the table, limited buffet, open buffet, etc.)
Food is offered on a self service basis - an open buffet.
Would food for vegetarians/vegan/lactose-alergic/religious (of any denomination) people be available?
There will be an option for vegetarian and vegan meals. Lactose-alergic cuisine may be set up. As for the religious people, they would need to give us information on their food selection before coming in but all in all, any kind of food could be prepared. If this still does not suit your needs there are supermarkets nearby where one could buy special food.
How much meals to we need to order to get those kind of "special" meals?
An order of any number of special meals is valid.
Will it cost extra to get those special meals?
No, the meals (all of them) are included in the price.
In a two week period, how many more or less equal meals can we expect?
Not too much, maybe once or twice.
How much does eating cost per person per day ?
Prices for the food are already counted in fullboard. Please be aware that these prices are not confirmed yet. There is an option for single bed rooms for those who pay their own costs for the hotel. This one would cost us about 23,50 EUR per person per day with food w/o breakfast (vegetarian, non-vegetarian, maybe even kosher), accommodation, with all conference rooms, hacklabs and even some sound equipment and BOF halls included in the price. This option would also make organizers life much easier and be more suitable for sponsors, scouts, business persons and non-Debian visitors, and those paying their on extra services. It also includes pools, massages, saunas, gyms and other services at 50% discounts for DebConf7 participants. Say, for example, daily pool ticket would cost 5,00 EUR.
[edit]
Examples of our cuisine
Here are some traditional meals and drinks in Sarajevo.
Ćevapi or ćevapčići
Bosnian national specialty made on grill is the famous Bosnian brand internationally recognized. Those are small dumplings made from minced meat, mainly veal, mixed with garlic, than onion and different spices. Average length of one ćevap is about 5 cm. Ćevapi are grilled and served in pita bread previously dressed by gravy with chopped onion aside. According to tradition ćevapi are served in ćevabdžinice located, when we talk about Sarajevo city, mainly on Baščaršija.
Sarajevsko pivo - Sarajevo Beer or for some, Sarajevo bear ;)
(Sarajevo beer, Sarajevska pivnica HS)
[edit]
Network connectivity
How much does it cost and how difficult is it to get a big internet connection? (10/20 Mbits at least)
There are options for part-time leased lines ranging from 512 kbps to 34 mbps available at greates local ISP (http://www.bih.net.ba), 10 Mbit/s approximately 7000,00 EUR.
europroNET ISP (http://www.europronet.ba) is willing to provide wireless 4x10 mbps (some 20 mbps average) connections as main or backup Internet link with 24/7 tehnical support. Hotel has already some network infrastructure from the europroNET ISP.
How much work does it imply to cover the area with wireless links?
Not much. Few Access Points (necessary equipment will be provided by donors) are needed, because we expect lots of people with their's notebooks.
Is the area already wired with regular network infrastructure? (much preferrably: 100Mbps or 1Gbps switched)
No, a wireless link should be set up.
If we use someone else's infrastructure, how easy / flexible can that be handled, regarding routing / firewall / ip-range / public access / other stuff?
Do we have restrictions on allowed ports?
Such restrictions should not exist.
Are we traffic-shaped? Or can we set a traffic shaper if we need so?
We should not be traffic-shaped, thus should we use our own shaper - we could.
Would it be possible to set up the network before Debcamp? (a few days earlier would be nicer)
(changed from a week to a few days - Andreas)
Yes, the full network connectivity is to be expected before DebCamp starts.
[edit]
Fun and Free time
What activities can be done during the free time?
There are the usual Bosnian shops and lots of old trades located at
old part of the city called "Bascarsija". There are lots of tourist attractions in Sarajevo, like old town, traditional meals, mosques, old bridges, town library Vijecnica and many more important cultural and historical places.
Pictures:
- Vijecnica
- Bascarsija
- Bridges 
- Cevapi 
- Burek 

What would be a possible Day Trip?
Visiting Old Town.
Is the proposed location ready to receive people with disabilities? (same as above, assume reasonable limits of handicapped people - Andreas)
Yes.
How expensive would that be?
For approximately 5,00 EUR you can get a guide which will show you the Old Town. A portion of cevapi costs 1,5 EUR and burek costs 1€ (those are the traditional Bosnian meals).
[edit]
Local Sponsors
Do you have a list of prospective sponsors that might be interested in the conference? Money, hardware, connectivity, etc.
For now, not really, but we are arranging it with a few local companies. Besides them, we would apreciate sponsorships from other countries and bigger companies.
[7] BIHNET ISP
[8] CISCO Certified Academy
[9] INFO IT agazine
[10] Team Consulting ISP
[11] Europronet ISP
Some possible Norwegian sponsors:
Opera Software (use Debian internally)
Trolltech (release free software).
[edit]
Hardware requirements
Video team (thanks to Herman Robak) - the streaming server needs a 1 TB RAID for storage of the raw DV, a 100 Mbit NIC with a dedicated cable to the grabbing machine. It also needs a powerful CPU for realtime compression to ogg/theora.The video uplink for streaming from each venue must be at least 300 kbit/s, sustained, guaranteed, not going down. For editing "Debcamp, the movie(s)" and other artistic impressions from Debcamp and Debconf, a computer capable of editing DV fast and HDV reasonably is needed. Minimum a 3.4 GHz Xeon. Even better a 2 CPU machine. At least 2 GB of RAM. Half a TB of disk. For editing talks, two or three 2 GHz+ machines with at least 1 GB RAM and at least 300 GB of harddisk(s) will do.
Problem: Getting the raw video from the streaming/RAID storage server to the editing workstations. In Helsinki, the network was a bottleneck, because the RAID and the workstations were not in the same building. (this problem surely won't appear in Sarajevo, because workstations and the RAID will be in the same building, just maybe not the same room). Raw DV is 25 Mbit/s.
Awesome solution: Gigabit network link. Can we support that? (The most we can handle is about 35-30 mbps) Boring solution: Offline editing. Leave the raw DV on the RAID, review heavily compressed video, and perform simple cuts with scripts running on the RAID server. (This would take some time for the team)
Prosumer video cameras - (that usually means 3CCD, manual focus ring, manual sound level and more) With video mixers: 3 for each venue (maybe just 2 or 1 for the "BoF") Without mixer: 1 for each venue
Sound equipment - for large auditoriums, PA (microphones and loudspeakers) is needed. Preferably wireless microphones. A skilled sound technician needsnto adjust the sound mixer to cancel out any feedback, and set thebproper sound level for the sound feed to the camera/streaming. There may be more than one speaker, and there must be at least one extra microphone to pass around to the audience. An extra "ambience" microphone to pick up applause or people who speak out of turn would be nice (we had one in Mexico).
Crew - some people who understand sound equipment and can handle video cameras. If they have some equipment of their own, even better. (This could be a problem, it would be better to form a crew few week before DebConf consisting of a number of people from different countries who already met).
How easy/convenient is the proposed place to get all strange and regular kinds of hardware?
Most of the "usual" hardware is available at local shops, from low-end processors (like Sempron and Celeron) and some solid GPUs to hi-speed GPUs and dual core processors. Most of the things are available at local shops and prices are very affordable.
* What kind of audio equipment is allready present at the auditoriums? Wireless or stationary mics? Clip-on kind of mics or cary in your hand mics? How many of them?
[edit]
Questionnare
Electronic/electricity shops?
Available, but not in great number. A listing will be set up soon.
The number of local electronic/electricity shops?
About 25-30.
Computer stores (A "media markt" like enduser oriented store doesn't count)?
Quite a few of computer equipment resellers, including IBM, Dell and HP representatives.
Supermarkets, etc.?
A couple of supermarkets in the vicinity of the dorm area.
Language: Do most people talk English? How hard is it for a foreigner to find their way around?
The local organizing team speaks English fluently, so do the potential volunteers which would be used during the conference. Majority of population understand English and can do a basic level of communication. It is relatively easy for a foreigner to find his/her way around the city. Also, a lot of foreign workers and diplomatic missions personel are based in Sarajevo and get along quite nicely.
How friendly is your country towards foreigners?
Our country is cosmopolitan and very open towards foreigners. We have no prejudices in racial/religious/political or other matters.
[edit]
Expense Summary
To help you review your expenses here is a roughly estimated table of prices:

{- | Service | Information | Pricing |- | Flight Expenses | Differs in European and International, the difference is roughly 1000,00 EUR. Using travel agencies saves money and health. | 100,00 ~ 1400,00 EUR |- | Visas | Relavitely few countries from which participants come, the list can be found here | 31,00 EUR |- | Accomodation | Includes three daily meals of own preference, one to three bed rooms and access to the hacklabs and other spaces | average 23,50 EUR |- | TAXI service (Sarajevo TAXI) | Not really needed but if you want to cruise the city | 0,50 EUR per kilometer, 1,00 EUR for each baggage item |}
[edit]
See also
DebConf5WhatToImprove DebConf6Suggestions DebConf6LessonsLearned
---