DebConf7/EdinburghBidDocument
From Wiki
DebConf Edinburgh, July 2007
(High St / National Gallery at the Mound / Canongate Tolbooth)
This map should be helpful as you read the venue/travel information below:
[edit]
Local team
Please name the main local team and describe their commitement (i.e. connection, work they have done before, how long...) in organizing events and working in Free Software projects. Are they perhaps even know inside Debian?
Of these people, which have been present at a previous Debconfs and who have participated as organizers and/or volunteers (the line might be quite blurry at times) of a previous Debconf?
These are the people who've been actively involved in the preliminary stages:
Moray Allan
DD, lives in Edinburgh
Mark Brown
DD, lives in Edinburgh
attended DC3,5
Kevin Campbell
lives in Edinburgh
Jon Dowland
NM applicant, lives one and a half hours away
Douglas Fraser
lives in Edinburgh
Stephen Gran
DD, lives two and a half hours away
Phil Hands
DD
Mark Hymers
NM applicant, lives one and a half hours away
Steve Kemp
DD, lives in Edinburgh
Neil McGovern
DD
Steve Mc Intyre
DD
Jon Middleton
DD, lives in Edinburgh
Peter Nuttall
lives two hours away
Stephen Quinney
DD, lives in Edinburgh
Paul Sladen
NM applicant
Will Thompson
|
We will recruit more people to help with particular aspects later on. Besides other Debian UK people, the Edinburgh Linux Users Group and Edinburgh University Comp Soc will provide volunteers for local tasks leading up to/at the conference.
The Debian UK Society already has a bank account that could be used for initial payments and money transfers. The society is a collaboration between Debian Developers in the UK, whose activities have included organising Debian attendance at many events in the UK.
[edit]
Choice of city


(View of central Edinburgh, looking north-west from Arthur's Seat)
[edit]
Are you suggesting a city, a town, a village, a spa in the middle of nowhere?
A capital city.
Edinburgh is the fourth-largest financial centre in Europe, and each summer hosts the Fringe, the largest arts festival in the world. The centre of the city is a World Heritage Site, and Edinburgh is the first UNESCO City of Literature. It has direct links by more than 50 airlines to many cities in Europe, the US, and Canada.
Many people who haven't visited seem to think that Edinburgh is very wet. Here are some average annual rainfall statistics:
| | | |
| --- | --- | --- |
| Edinburgh | Rome | New York |
| 626 mm | 760 mm | 1200 mm |
[edit]
How many people live there?
[edit]
How easy/convenient is the proposed place to get all strange and regular kinds of hardware?
[edit]
= Electronic/electricity shops
[edit]
Computer stores (A "media markt" like enduser oriented store doesn't count)
[edit]
Supermarkets, etc.
[edit]
How easy is it for handicapped people to move there?
Since 2004 there has been a legal requirement under the Disability Discrimination Act for providers of goods and services to make 'reasonable adjustments' to provide services to people with disabilities, and remove physical barriers to their access. There should now be few problems in business premises, while most road junctions have dropped kerbs to make it easier for wheelchair users (and others with limited mobility) to cross.
Since 1997 all licensed taxis have been wheelchair accessible.
Most buses (including the airport shuttle bus) are wheelchair accessible.
See also Transport Guide for People with Disabilities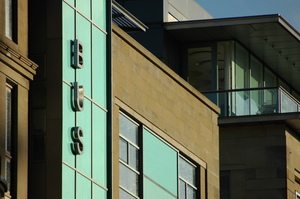 (New bus station, St Andrew Square)
[edit]
Which is the nearest airport?
Edinburgh has its own airport, a short bus ride from the city centre.
Glasgow and Glasgow Prestwick airports are also nearby, with connections to central Edinburgh by public transport.
See DebConf7/Travel for more information.
Are there any cheap airlines flying near the chosen city?
Yes, there are many: German Wings, Ryan Air, Central Wings, Easy Jet, BMI, flybe, and various others.
Many attendees from Europe will be able to book flights with budget airlines. For attendees from further away, Edinburgh is anyway close the centre of DD locations: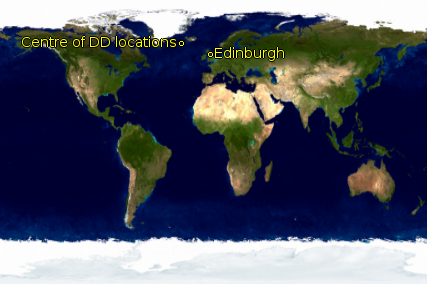 How long does the trip from the airport to the venue take?
A shuttle bus runs from Edinburgh airport to the city centre every 10 minutes during the day (less frequently after midnight), taking 25 minutes to reach its terminus at Waverley station (less if the roads are quiet). Most people should buy a return ticket £5 (€7) and keep it for when they leave. A one-way ticket costs £3 (€4). http://www.flybybus.com/
The venue is five minutes' walk from the station. (It's quicker if you get off the bus from its terminus, but it may be easier for people to sit on it until it stops than try to follow instructions about when to get off.)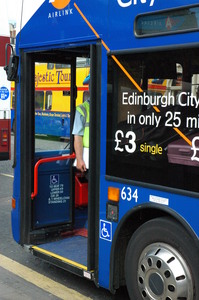 [edit]
How friendly is your country towards foreigners?
Edinburgh is a major tourist destination, which tries to attract foreign visitors. As a capital city, it has a high proportion of immigrants, both from elsewhere in the UK and from abroad. (It has more than twice the average Scottish proportion of non-white inhabitants.)
Visas: Which/how many countries' citizens require getting a visa? How hard (bureaucratic, probable) is it to get it?
Countries in registration list for DebConf6 whose nationals do NOT require a visa to visit the UK
Argentina, Australia, Austria, Belgium, Belize, Bolivia, Brazil, Canada, Chile, Croatia, Czech Republic, El Salvador, Finland, France, Germany, Greece, Guatemala, Ireland, Israel, Italy, Japan, Latvia, Mexico, Netherlands, New Zealand, Norway, Spain, Sweden, Switzerland, (United Kingdom,) Venezuela, United States.
Countries in registration list for DebConf6 whose nationals require a visa to visit the UK
Bangladesh, Bosnia, Cambodia, Cameroon, China, Colombia, Cuba, Egypt, Gambia, Guinea, India, Indonesia, Kenya, Nigeria, Peru, Romania, Russian Federation, Ukraine.
(Note: some of the countries in the 'require a visa' list only had a single registrant each, to whom the Deb Conf team refused to issue an invitation letter because they didn't seem genuine.)
UKvisas gives information for each country, including the information that needs to be provided, and where it should be sent.
In 2005, 91% of straightforward, non-settlement applications were resolved within 24 hours without an interview, with most applicants receiving a same day service. (Source) If an interview is needed before a decision can be made, the UK visa service aim to organise one within 10 days.
See also this message on the debconf-team list, and others in that thread.
Are there any import regulations, which might affect DebConf? (e.g. a limit to number of notebooks / DVDs / other media you can bring in; hard regulations for money transfers; etc.)
We don't know of any problematic regulations that will affect DebConf.
Customs rules for visitors:
Eligible goods under 4,000 euros in value (except pets and firearms) may be temporarily imported while you are in the UK without needing to be declared. More info
Customs allowances travelling from outside the EU: 200 cigarettes or 100 cigarillos or 50 cigars or 250g of tobacco; 2 litres of still table wine; 1 litre of strong liqueurs or 2 litres of fortified wine/sparkling wine/other liqueur; 60cc of perfume; 250cc of eau de toilette; £145 of other goods including gifts and souvenirs.
Restricted goods: firearms, explosives, ammunition, live animals, endangered species, certain plants and their produce, certain radio transmitters.
Prohibited goods for import: unlicensed drugs, offensive weapons, some types of pornographic and obscene material, counterfeit and pirated goods, meat, milk, and other animal products.
Language: Do most people talk English? How hard is it for a foreigner to find their way around?
Yes, English is the major language in Scotland.
(New Town / Steeple of St Mary's Broughton / Part of the Mc Ewan Hall)
[edit]
Venues
Please see DebConf/Edinburgh/Venues for venue information (this page was getting too big).
[edit]
Fun and Free time
(Holyrood Park / Visiting geeks in a pub)
What activities can be done during the free time?
There are the normal shops and bars that would be expected in a western European capital.
Free tourist attractions in central Edinburgh include: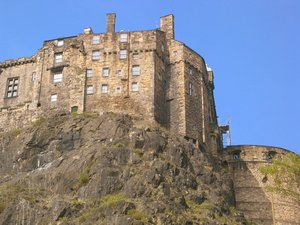 Other attractions include:

A few more of the historic buildings that you can go inside: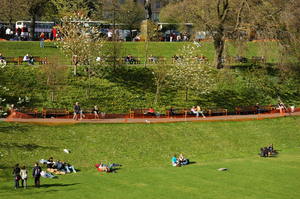 (Princes St Gardens)
We hope to hold DebConf immediately before the main Festival period, so that people who have time to stay on for a holiday can catch some events (it would be impossible to organise DebConf during the Festival itself, since everything is much busier/much more expensive). Major summer festivals include:
[edit]
What would be a possible Day Trip?
It might be worth doing a poll of attendees to see what kind of trip they're most interested in, since there are so many options.
It would be possible to organise a free day trip around Edinburgh; if enough sponsorship is available it might be nice to take people on a trip to the Highlands, perhaps passing by a distillery.
Is the proposed location ready to receive people with disabilities?
[edit]
How expensive would that be?
It would be easy to organise a free 'day trip' around Edinburgh, though if the budget is available it would be nice to take people outside it.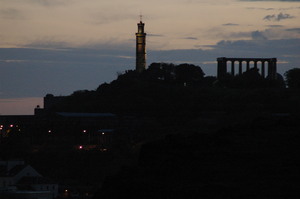 (Monuments on Calton Hill)
[edit]
Local Sponsors
Do you have a list of prospective sponsors that might be interested in the conference? Money, hardware, connectivity, etc.
We haven't made a big push on sponsorship yet, but we have been compiling an internal list of potential UK sponsors, based on connections to Debian and past sponsorship of free software events.
We already have three ISPs offering sponsored connectivity: Black Cat Networks, UKFSN, and Web Tapestry.

Hands.com and Logicalware have also contacted us to say that they are interested in sponsoring an Edinburgh Deb Conf.
(Part of the Scottish Parliament building / New Town with view across the Firth of Forth to Fife)
---