DebConf18/CheeseWineBoF
From Wiki
[edit]
The 14th Cheese and Wine party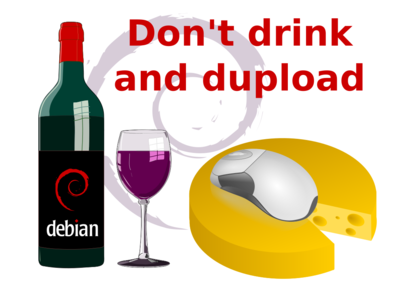 Monday, 30 July, 2018, from 20h30 to midnight
[edit]
Where?
Next to Restaurant 2
Cheese is Good For You. Wine also helps. This C&W is the 14th official DebConf Cheese and Wine party. The first C&W was improvised in Helsinki during DebConf 5, in the so-called "French" room.
Cheese and Wine parties are now a tradition for DebConf. The event is very simple: bring good stuff from your country, preferably edible. Grapes and lactose are both optional: we like cheese and wine, but we love the surprising stuff that people bring from all around the world. Even if you don't bring anything, feel free to participate: our priorities are our users and free cheese.
Some bits from previous C&W:
[edit]
Questions?
Write to the debconf-discuss mailing list.
Can I participate to C&W (AKA eat and drink) if I couldn't bring anything?
A: Sure you can. No cheese control at entrance (however, see notes below). No "secret cheese cabal" checklist. But you can certainly find something to bring. No cheese? Maybe some nice bottle of <insert favourite $beverage here>. Or some nice thing to eat from your place. Whatever.
I couldn't bring anything from $HOME but would like to participate. Is there a way to do so?
A: You can help us! C&W helpers meetings will be indicated on this page and announced on debconf-announce.
I brought XXX and don't know where to store it
A: There's a fridge in the video room (MIRC, 7th floor, room 705). Please label your stuff when you put it there.
I forgot what is it that I brought !
A: We'll try to track back what it is that you brought with you.
Anything I should do when bringing goods?
A: Please make sure it is labelled, either from its packaging or by a readable note from you.
[edit]
Orga Team and tasks
Cheese Master
Cheese Assistants (Volunteers with tasks assigned until the C&W time)
[edit]
Shopping list
cheese!
barbecue sticks (for cheese labels)
paper+pens
Transparent film to store leftovers
toothpicks
plastic wrap or plastic bags
breads/crackers (fresh, to be purchased on the day)

plain, baguettes, french bread (the best would be to call TBD - a really good bakery X mins away from the venue - a day in advance and make sure they'll have enough baguettes)
gluten-free crackers
corn chips (are gluten-free)
[edit]
Taiwan Customs Regulations
The Taiwan customs declaration does not explicitly state a limit on cheese. We have not heard so far about any issues importing cheesy stuff.
[edit]
Vegan options
Vegans do not eat cheese. Can they still attend?
We have a vegan cheese/goods corner since debconf15, including vegan cheese and vegan chocolate. This is planned for this year again, too. (Rhonda)
[edit]
Non drinker options
Q: I don't drink alcohol. Can I still attend?
A: Of course, please attend and enjoy! If there is not enough non-alcohol please purchase some and DPL will reimburse you.
[edit]
What will be available during the party?
Please choose one, two, or exceptionnally three, representative cheeses or food items from a place (list of cheeses).
It is recommended to target pieces that can be cut in about 10/20 slices/portions/whatever each.
We will try to label stuff based on the information pasted on this list, so please follow template to help generate labels!
[1] Cachaça Carvalheira, 38% Alcoholic drink, Brazil, by lenharo
[2] Paçoquita, Candy with nuts, Brazil, by lenharo
Cachaça 51 Ouro, 40% Alcoholic drink, Brazil, by samueloph
Pé-de-moleque, Candy with nuts, Brazil, by samueloph
Homemade beer, Beer, French Polynesia, by taffit
French wine, Wine, French Polynesia, by taffit
Metsovone (Μετσοβόνε), Cheese, Greece, by apoikos
Graviera (Μιτατοτύρι) with hot pepper, Cheese, Crete - Greece, by apoikos
Malagousia (Μαλαγουζιά), Wine (white), Porto Carras winery, Greece, by apoikos
Agiorgitiko (Αγιωργίτικο), Wine (red), Nemea, Greece, by apoikos
84 months old Parmigiano Reggiano, Cheese, Italy, by enrico
日本酒 (Sake), Alcoholic drink, Japan, by Hideki Yamane (henrich)
梅酒 (Umeshu), Alcoholic drink, Japan, by Hideki Yamane (henrich)
ゆず酒 (Yuzu-shu, Sake with Yuzu), Alcoholic drink, Japan, by Hideki Yamane (henrich)
柿の種(Kaki-no-tane)(わさび味, Wasabi taste), Snack, Japan, by Hideki Yamane (henrich)
Mezcal (specifically, Mezcal Alacrán de agave espadín), Alcoholic drink, Mexico, by gwolf
Queso cavero marinado en cerveza, Cheese, Mexico, by gwolf
Queso manchego botanero (somewhat hot!), Cheese, Mexico, by gwolf
Queso doble crema Chiapas, Cheese, Mexico, by gwolf
Cachaça Orgânica da Chapada Diamantina, 40% Alcoholic drink, Brazil, by valessio
'live made' Caipirinha, Alcoholic Coctail, Brazil, by DebConf19
Paçoquinha, Candy with Nuts, Brazil, by valessio
Cachaça, Alcoholic drink, Brazil, by phls
Dulce de leche (800g), Milk Sweet, Brazil, by phls
Durian sweets, Sweet, China, by lamby
chak-chak, Sweet, Russia, by liubov
Soju (a traditional one, "문배술"), 40% Alcoholic drink, South Korea, by Changwoo Ryu (cwryu)
Red & White Valençay wine, Wine, France, by guilhem
Saucisson Sec (pork), France, by treinen
Ptasie mleczko vanilla candy covered in chocolate, Sweet, Poland, by serpent
Hopfa Orange, 40% Alcohol, from hop, Germany, by serpent
Heiland, 23% Alcohol, dark beer extract, Germany, by serpent
Schmitzz, Alcoholic drink, Germany, by serpent
World cup themed gelatine candy, Germany
Chinese Hot Strip (La Tiao), Snack, China, by felixonmars
Flowers pastry(鮮花餅), snack, Yu'xi China, by lumin
白酒(Baijiu), Alcoholic drink, China, by Shengjing Zhu
Tansan Senbei (炭酸せんべい), Green Tea/Milk Taste Cracker, Japan, by Jun Nogata (nogajun)
Pie-no-mi (パイの実), Sweet azuki beans taste Snack, Japan, by Jun Nogata (nogajun)
Bisco (ビスコ), Cream sand biscuits, Japan, by Jun Nogata (nogajun)
rakija, alcoholic drink ~40-45% from Bosnia/Serbia, zlatan
Czech white and red wines by onovy and kobla
日本酒 (Sake), Alcoholic drink, Japan, by Tetsutaro KAWADA (t3rkwd)
おやつ (Oyatsu), Snack, Japan, by Tetsutaro KAWADA (t3rkwd)
発泡性日本酒 (Sparking-Sake-Mio), Alcoholic drink, Japan, by Norimitsu Sugimoto (dictoss)
歌舞伎揚(one of senbei) (Senbei), Snack, Japan, by Norimitsu Sugimoto (dictoss)
みかん酒(mikan sake), Alcoholic drink, Japan, by Duck
山形正宗(nihonshu from Yamagata), Alcoholic drink, Japan, by Duck
海老煎餅(Shrimp Senbei), Cracker, Japan, by Duck
ソルト&カマンベールクッキー (Salt & Camembert Cookie), Snack, Japan, by Duck
Soju(소주, Korean alcoholic drink, Chamisul Fresh), Cup Ramens, Hutgaecha(헛개차, Tea of Hovenia ducis), Canned fried chicken(불닭볶음), Canned spicy tuna by Youngbin Han and Jongmin Kim
日本酒 from 鹿野酒造, 常きげん (Sake), Alcoholic drink, Japan, by Norbert Preining (preining)
牛蒡/ゴボウ (Gobo, edible burdock), snack, Japan, by Norbert Preining (preining)
two kind of pickled fish, Japan, by Norbert Preining (preining)
Plum Wine (梅酒), Japan, by Roger Shimizu (rosh)
Bergbauernkäse (Mountain cheese), South Germany, Max Harmathy
Senner Bärlauchkäse (bears garlic cheese), South Germany, Max Harmathy
Ammergauer Feuerkäse (chili cheese), South Germany, Max Harmathy
Andechser Bergkäse (Mountain cheese), Austria, Max Harmathy
Bügerspital Würzburg, Grauer Burgunder trocken 2016, Franken (South Germany), Max Harmathy
Bügerspital Würzburg, Silvana trocken 2015, Franken (South Germany), Max Harmathy
Mimolette, Ossau-Iraty, old dry goat cheese, various samples of French soft cheese; 2 wine bottles, Bordeaux 2009 (médaille d'or) and Gigondas 2004 (médaille d'or); Georges Khaznadar & Jocelyne Fournier
Kalamata olives, by paravoid
Honey & chocolate halva, by paravoid
Ouzo (anice-flavored liquor, tastes like sambuca, dilute with ice/water), by paravoid
Mastiha liquer (sweetened with sugar, served cold and/or with ice), by paravoid
Comté 36 Mois, France, Cheese, cow milk, by olasd
Ossau-Iraty, France, Cheese, sheep milk, by olasd
Tomme d'Auvergne, France, Cheese, cow milk, by olasd
Pineau des Charentes blanc, France, Alcoholic drink (20 deg.) olasd
Pineau des Charentes rouge, France, Alcoholic drink (20 deg.), olasd
Dried fish strings, Taiwan, pollo
Litchi jelly, Taiwan, pollo
Gudbrandsdalsost, brown goat and cow milk cheese, Norway, by tfheen
Homemade White Wine (only 5 bottles in existance ;-))
Apple Fruit Spirit
日本酒(nihonshu from Hokkaido/Asahikawa)/男山(Otokoyama), Alcoholic drink, Japan, by Nobuhiro Iwamatsu (iwamatsu)
Some Japanese snack, Snack, Japan, by Nobuhiro Iwamatsu (iwamatsu)
日本酒 久保田 千寿 (Kubota Senju), Alcoholic drink, Japan, by Shunsuke Yoshida (koedoyoshida)
Vietnamese dried pork meat with spices home made by my adopted daughters mother, tille
日本酒 (Sake) (黄桜 呑 and 月桂冠 辛口 純米), Alcoholic drink, Japan, gniibe
柿の種 (Japanese snack), gniibe
cheetara (Japanese cheese + cod), gniibe
Fried squid (イカ天大将), gniibe
梅酒 (Japanese plum wine), knok
Wasabi taste beens snack, knok
Bergkäse Allgäu (10 months), Benjamin
柿ピーナッツ (柿の種(Kaki-no-tane) & ピーナッツ(peanuts)) - normal and wasabi taste, snack, Japan, by YOSHINO Yoshihito (yyoshino-guest)
---