DebConf15/Bids/Mechelen
From Wiki
Mechelen is a medieval city in the heart of Belgium. It's not very large (80k inhabitants), but large and old enough for there to be lots of interesting things to do in Mechelen:
The toy museum
Brewery "het anker": can be visited (though probably not with all of us together)
Saint Rumbold's Cathedral and tower, which you can climb, providing a nice view
Mechelen is home to the world famous royal carillon school "Jef Denyn"; there are also several public carillons in the city that are often played.
The Planckendael zoo is just outside the city, easily reachable by public transportation or boat(!)
... and many more things (the presentation had a few more)
[edit]
Getting there
Brussels National Airport is 20km away. There is a train station below ground under the arrivals and departures halls, which feature direct trains from the airport to Mechelen in around 10 minutes. Alternatively, one could also take the bus; this would take about an hour.
If coming by high-speed train from elsewhere in Europe, one would go to either Antwerp Central station (thalys) or Brussels South/Midi (Eurostar, Thalys, ICE, TGV), and take a regular train from there to Mechelen. This will take between 15 and 30 minutes, depending on the exact kind of train you'd take.
For those coming by car, you would drive to E19 from which you would take exit 9, "Mechelen Noord" (mechelen north) or exit 10, "Mechelen Zuid" (mechelen south). However, note that there is no free parking in Mechelen.
Having said that, the youth hostel is right next to a parking lot and does have some reserved parking space as well.
In the unlikely event someone would want to come by boat, there is a small marina in the river not too far from the venue...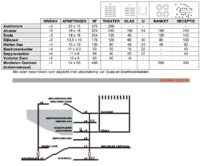 Lamot site: previously a brewery, it was rebuilt into a convention centre in 2000. It is excellently located, across the river from the vismarkt or "fish market", where there are lots of bars and restaurants; an excellent place to have a beer or some food in summer. Price info is on the checklist
This price is a compound figure, consisting of renting all the rooms rather than just some of them, which Lamot also allows should we want it (though we recommend against that). It also includes wages for their technical staff, who operates their technical equipment (we have to use that according to their standard rules, but we haven't asked for an exception; it's possible that we might get it). Full details on the pricing available on request (since this is not on the Lamot website, I thought it improper to place it on a public wiki).
The building contains several rooms; we would be able to use one as a NOC room or the likes, and there is also one room which is usually used for receptions or walking dinners, and which would be an excellent location for the cheese and wine party.
The city government has agreed to assign one of the days that they have a right to through their agreement with Lamot to DebConf, should we win the bid.
[edit]
Lodging
Hostel "De Zandpoort" on the outskirts of the city, about a 15 minute walk from Lamot (youth hostel on openstreetmap, lamot on openstreetmap). We have had confirmation from the owner that we would be allowed to rent the whole building should we want it.
Three hotels in the neighbourhood of Lamot site:
These three hotels have offered us a single price, at a reduction from their normal rates.
Prices (and estimates) on the checklist page.
[edit]
Day trip
Options:
Het Anker (brewery)
Speelgoedmuseum (toy museum)
Technopolis (technical museum)
Planckendael (zoo; might be too expensive?)
Guided tour in Mechelen
Beiaardschool (carillon school)
The city government has directed the city's tourist services to work with us in preparing a decent daytrip, if we win the bid.
[edit]
Local team
Have helped out so far:
Wouter Verhelst
Gerry Demaret
Kurt Roeckx
Juan Rial
Ivo De Decker
Jeroen Dekkers
Bart Martens
Wouter, Kurt, Ivo, Jeroen and Luc were at debconf13 (and several others); I think Bart was at debconf9.
Have shown interest to help out in the future, if we win the bid:
Geert Stappers
Paul Gevers
Gijs Hillenius
Luc Claes
Geert has visited several debconfs, including debconf13.